Make Your Mark In The World With StampBlankz
January 11, 2023
Cornwall Ontario – People can now make their mark in the world using a brand new product produced right here in Cornwall.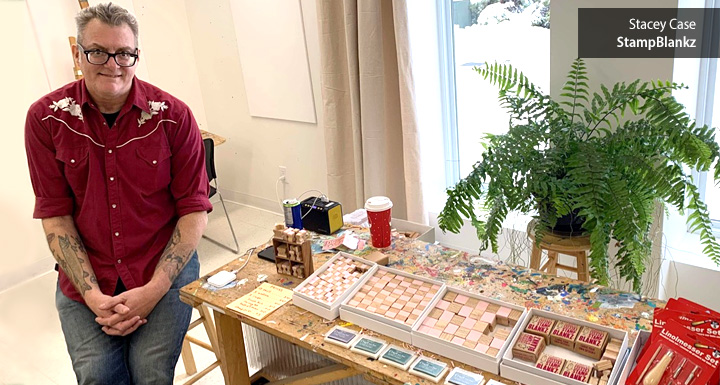 StampBlankz are unique rubber stamps that come with a blank rubber face that can be carved to create any design you can imagine. The product is the brainchild of Stacey Case, an entrepreneur whose eclectic background includes film, writing and screen printing.
"I used to work in an art supply store, and I had the idea for blank rubber stamps. Then I forgot about it, and I moved on with my life," says Mr. Case. "I wanted to start carving rubber stamps again after 30 years. So, I went and looked for blank rubber stamps and they still didn't exist."
Working with a long-time friend and woodworker, Mr. Case was able to take his idea to product in a very short amount of time. StampBlankz come in three sizes which can be purchased separately or in pre-made bundle packs which include various sizes. Add in a stamp pad, some simple carving tools, and your imagination, and you are ready to start making your own custom stamps.
"The need to do things with one's hands, like baking, or fishing, or carving…this is a way of life that has existed for thousands of years before computers," said Stacey Case.  "StampBlankz reconnect consumers with their hands, with art, with creation, with something bought from a store that actually becomes their own once they carve."
Mr. Case launched the product at the Cline House Gallery in December to rave reviews. His products soon found the way onto the shelves at Life's Little Pleasures. He will be doing another product launch in January in Toronto.
StampBlankz can be purchased online or at local stores (such as Life's Little Pleasure).
Categorised in: Arts and Entertainment, Business, Community, General, News