MeepleMobile Brings Something New to the Table
June 14, 2019
Cornwall, Ontario – MeepleMobile introduces a mobile board-gaming event service that brings the party to you.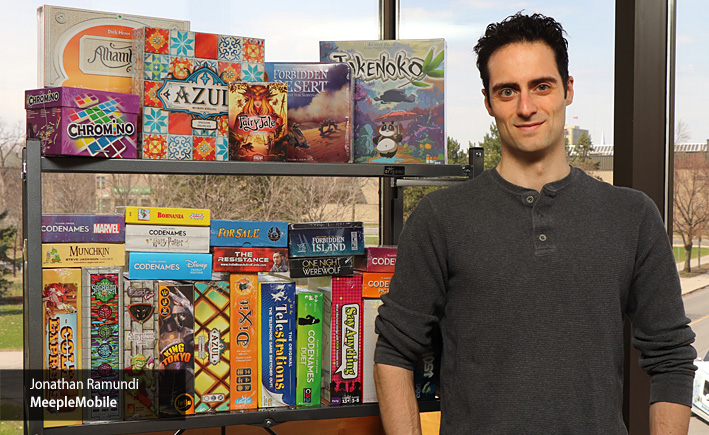 MeepleMobile brings a library of board games to your space/event for attendees to play along with a facilitator to help recommend, set up, and teach games as needed. The company's collection of over 100 unique titles offers options for board gamers of all skill levels from beginner to experienced.
Jonathan Ramundi, owner of MeepleMobile, found himself him at a crossroads in his professional life. Rather than continue down the same path he had for the last 11 years, he decided to take the road less travelled. He decided to try his hand at the world of entrepreneurship and turn an almost decade-long passion into a career -a passion he's looking to share with others.
"I'm hoping to provide an alternative form of entertainment for local residents," says Mr. Ramundi. "Modern board games are something many people either don't know much about or are intimidated by and don't know where to begin. My hope is to ease these people into modern gaming and help them find games they love and can enjoy with friends and family for years to come."
Board games have been a source of entertainment for families and friends dating as far back as 2000 BC,  and today's selection offers exciting choices beyond Monopoly or Scrabble. And with an ever-increasing focus on teambuilding in the corporate world, MeepleMobile's service could be an exciting new addition to a company's social calendar.
"I think board games (and board gamers) can be used as a tool for personal and community growth," says Mr. Ramundi. "Fundraisers and other charitable events centred around board gaming have the potential be highly successful. I'm very much looking forward to being a part of such events and am excited to see where the business goes in that regard."
MeepleMobile hopes to provide both new and seasoned gamers with new games to play, more spaces where they can enjoy their hobby, and new people to meet and share that hobby with.
Some event ideas to consider MeepleMobile for include:
Game days/nights at pubs, cafes, and other establishments
Corporate events for team-building, networking, and employee wellness
Weddings, bachelor/bachelorette parties, and baby showers
Festivals, fundraisers, and other charitable events
After-school programs for schools and youth organizations
MeepleMobile can be reached by phone at (613) 363-5124 and online at:
For those who are wondering what the term "meeple" means, it's a person-shaped board game piece. It is most commonly associated with the game Carcassonne, and has become the unofficial symbol of modern board gaming.
Categorised in: Arts and Entertainment, Business, General, News