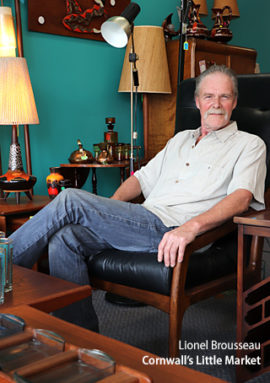 Mid-Century Modern Magic at Cornwall's Little Market
July 13, 2018
Cornwall Ontario – Lionel Brousseau has opened up a neat little store on Montreal Road, where he sells – in the words of a customer – "the coolest" furniture and accessories.
Cornwall's Little Market specializes in mid-century modern furniture and accessories from the 30s through the 80s. The shop features a number of pristine tables, chairs, sideboards and cabinets from well known Scandinavian, American and Canadian furniture designers.
Walking into the shop is like walking into the set of an old movie.
"Mid-century modern is a style that is very popular right now, and for good reason," says Mr. Brousseau. "The quality is superb, often featuring teak, walnut and rosewood, and the design is at the same time both modern and nostalgic."
Since opening earlier this year, Cornwall's Little Market is attracting the attention of people in Ottawa, Montreal and Toronto – who have no problem making the drive for the right piece. They may be attracted by the furniture, but they often leave with original art, vintage stereos and classic rock vinyl.
"There is something for everyone, for every budget," notes Mr. Brousseau. "I have over 100 lamps alone on the floor at any given time."
All of the unique pieces are sourced by Mr. Brousseau, who devotes Monday and Tuesday to meeting with people throughout the region and discovering what might be available to bring to his store.
"Its all about the thrill of the find," says Mr. Brousseau. "You get to meet the owner and find out about the history of the piece. You can't help but get attached."
Mr. Brousseau and his wife Nicole have been dealing with antiques and collectibles for over 30 years. They have had small antique shops in Maxville and Williamsburg in the past, and the couple has often sold goods at flea markets, including the Stittsville Flea Market.
That experience helps determine the value and marketability of each piece. Mr. Brousseau also does a lot of the refinishing himself, using speciality wood oils from Denmark to bring back the vitality of each piece.
"Each piece is clean and ready to go to its new home."
Cornwall's Little Market is located at 141 Montreal Road in Le Village and is open Wednesday through Saturday from 10am to 6pm, and on Sundays from 11am to 4pm. You can reach the store at 613-360-4569 or online on Facebook:
Categorised in: Arts and Entertainment, Business, News