New Book Illustrates Cornwall's Rich History
July 16, 2019
Cornwall Ontario  – Cornwall's history has been immortalized in a new book that tells some of the most treasured stories of the region.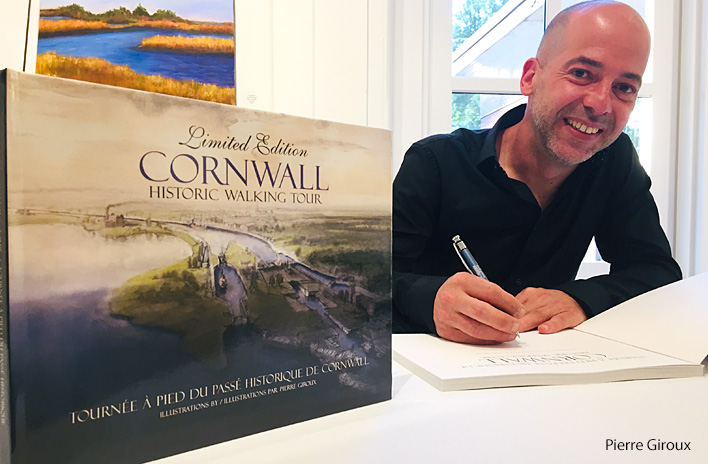 Entitled Cornwall – Historic Walking Tour, the 92-page, full-colour book brings to life historical scenes from Cornwall's past, including the Cornwall Canal and  The Great Fire, along with landmark buildings from days gone by such as the Cornwallis Hotel, the Capitol Theatre, and industrial paper and cotton mills.
The book places the the artwork of renowned Cornwall artist Pierre Giroux front and centre when exploring the heritage of the region.
"It was an amazing experience to dive deep into Cornwall's history and to use art to recreate some iconic images," says Pierre Giroux. "I hope people enjoy the book as much as I enjoyed painting the images."
The book features each of the 42 plaques that make up the popular Cornwall Historic Walking Tour.
"The Walking Tour has been universally welcomed by residents and visitors to our city who have told us they appreciate our dedication to local history and local art," said Todd Lihou, Centretown Coordinator. "Now people can celebrate that history with a book that is steeped in Cornwall's proud heritage."
The book was produced by Heart of the City and is available in both hard- and soft-cover formats. Copies can be purchased at the Cornwall and Area Chamber of Commerce, Cornwall Community Museum and Cline House Gallery.
About the Historic Walking Tour
The Historic Walking Tour is made up of 42 plaques that profile a different event or milestone in Cornwall's rich history using colourful illustrations by renowned Cornwall artist Pierre Giroux and research from local historian Lily Worrall.  Individually each plaque is impressive, yet together they form a tapestry that weaves throughout the area.
Categorised in: Arts and Entertainment, Business, Community, General, News