New Lights Installed in Lamoureux Park
October 26, 2022
Cornwall Ontario – Lamoureux Park has never looked better at night – following the installation of new lighting.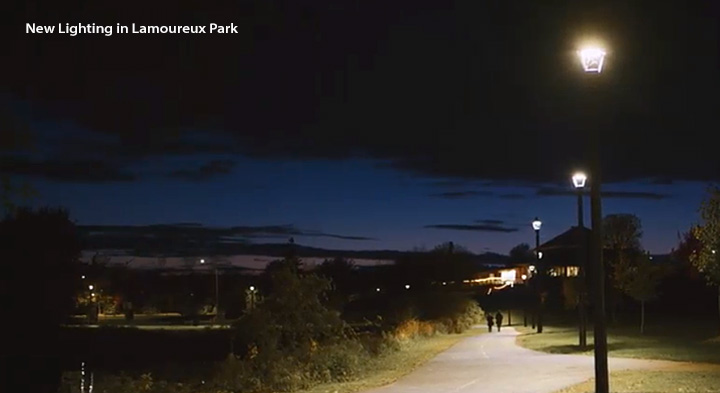 Lighting around the park's pathways was upgraded and expanded in late spring , and as days get shorter, residents and visitors are enjoying the new lights.
"During our installation, we met with a lot of people who walk the park daily," says Stan Hum, Project Technologist with the City's Infrastructure & Municipal Works Department. "The feedback on the new lights has been overwhelmingly positive. People are able to walk at night with a sense of security."
As part of the project, 47 lights were retrofitted and 86 new lights installed, significantly enhancing the enjoyment of the pathways at night.
"Lamoureux Park is a hub of the city. It brings together community," says Mr. Hum. "People of all walks of life can enjoy the park. It just makes Cornwall a better place."
The pathway project complements previous light enhancement projects at the Civic Complex, Marina 200, Cornwall Community Museum and the Clock Tower.
"This project aimed to improve the accessibility, safety, and multi-season uses in Lamoureux Park," says James Fawthrop, Manager of Recreation and Facilities.  "All new lights are energy efficient LED fixtures using the most environmentally responsible technology available."
Quick Facts
133 lights now illuminate the park's pathways
150W metal halide lamps were replaced with energy efficient 40W LED (light emitting diode) lamps
The lamps provide a warm light measuring 4000K
The lights are lantern style and post top mounted 15ft in above the pathway
Estimated length of new electrical cable = 7853 metres
Lights are placed at 20 metre intervals
The lighting project was supported with funding from senior levels of government
The lighting project follows a signage project which saw 10 wayfinding signs erected throughout the park in 2020
Signage and lighting enhancements support recommendations in the City's Waterfront Plan and the Recreation Master Plan regarding improving accessibility.
Watch the Video
You can see the new lighting in the latest episode of Common Ground, a video series exploring a number of City programs and service.
Categorised in: Arts and Entertainment, Business, Community, General, News