Night Market To Light Up Cornwall's Downtown
August 11, 2022
Cornwall Ontario – Over 50 vendors will be setting up their wares for Cornwall's first Night Market, which takes place this Friday, August 12.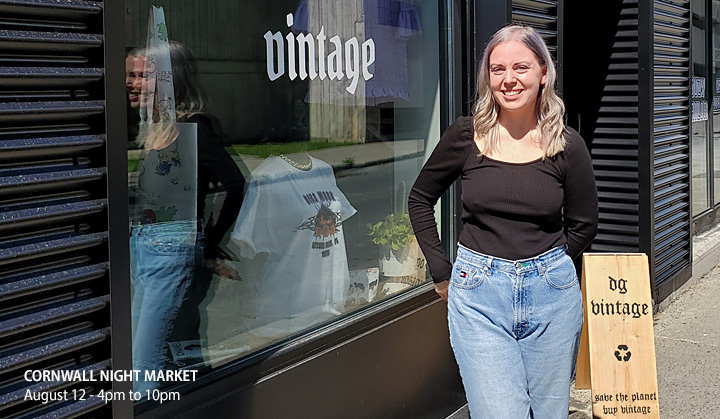 Attendees can expect a mix of vintage clothing, jewelry, food, home décor, oddities and more at the event which is scheduled from 4pm to 10pm in the general vicinity of First and Pitt. Many downtown businesses in the area will also be staying open late. A live DJ will be on hand playing some favourite throwbacks and Spilt Milk Photography will be hosting a photo booth.
"The Night Market will be a celebration of summer, we expect hundreds of people to show up and enjoy a night out on the town," says event organizer Dayna Gunn, owner of dg vintage on First Street. "With so many vendors, there is something for everyone, and with local shops and restaurants staying open late, you can enjoy both an indoor and outdoor experience."
Vendors are coming from Cornwall, SDG, Brockville, Ottawa, Montreal, and the GTA, so there's sure to be something new for all to explore. The vendors will set up their tents, booths and tables in the parking lot north of Mexicali Rosa's and in the Cornwall Square parkette which is home to the popups. Part of Pitt Street south of First Street will be closed for the event.
The variety of vendors has generated a lot of excitement within the community.
"There will definitely be some items that we have not seen in Cornwall before," says Ms. Gunn.
A vendor lineup list for the event includes Thrifting with Brady, Lawrence Avenue Jewelry, 613plants, Buds Records, Shy Turtle Creations, Balam's Daughter Tarot Reading, Once Upon a Coffee Shop, Wildfeather Creations, Sage & Rage Studios, Arise, Robs Wood n Stuff, McCloset Ottawa, Bend & Snap, Cornerstone Organics, Soak it Up Kanata, Wonderflea Vintage, Maudern Abode, Birch Haus, Feeling Allyve, Holly Rose Originals, Spirit Roots Company, Phoenix Bath and Beauty, Copious Fashions, Noralou, and dozens of others.
Downtown businesses open late include Esca, Mexi's, Schnitzel's, Simply Jennifer, Life's Little Pleasures, Essential Kitchen, Echo Trends, Carrots n' Dates, Kid's Korner, The Happy Popcorn Co., Love and Lee Apparel, The Squire Shop, Rush Hour Escapes, and Tickle Your Fancy Gift Shop. The SDG jail will also be open late for tours.
The Night Market is sponsored by the Cornwall Downtown Business Improvement Area.
About the DBIA
The Cornwall Downtown Business Improvement Area (DBIA) works to promote the downtown area so local businesses thrive and prosper. Downtown Cornwall is home to over 150 businesses and hosts over 50 events each year. You can lean more the DBIA's new website.
Cornwall Event Calendar
Looking to find out what else is happenng in the Cornwall area? Check out Cornwall Tourism's website:
Categorised in: Arts and Entertainment, Business, Community, General, News