Nurse Next Door arrives in Cornwall
December 19, 2018
Cornwall Ontario – Regardless of where you live in Cornwall, there's now a nurse next door.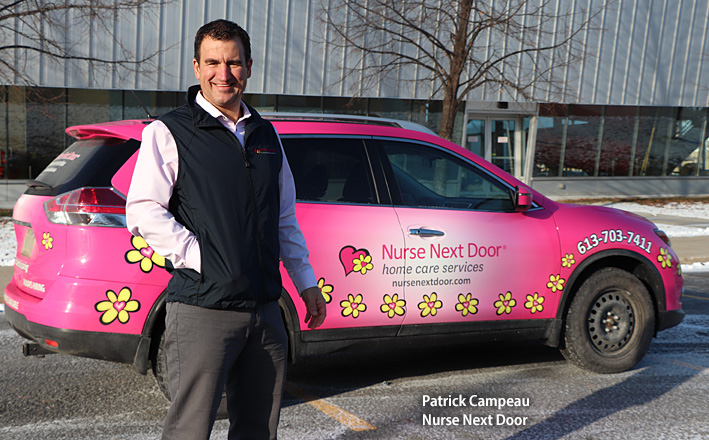 Cornwall resident and entrepreneur Patrick Campeau is seeing to that with the launch of Nurse Next Door, a franchise business that provides around-the-clock senior care right at home.
Having worked in the long-term care industry for the past 13 years, Mr. Campeau recently launched the new business as a way of helping seniors in need right in their own homes – and easing some of the burden on hospitals and long-term care facilities in the process.
"We bring clients and their families peace of mind knowing that they will be able to keep living in the home that they have spent years building and making their own," said Mr. Campeau. "With the right programs, we can be proactive and help delay some of the signs and symptoms of dementia."
"We want to improve seniors' health and independence while helping them stay comfortable and safe in their own home."
Nurse Next Door offers standard home care services such as companionship, meal preparation, homemaking, personal care and bathing along with vital care services such as nursing care, palliative care and other special needs. The company's 'Happier Aging' model and 24/7 service make Nurse Next Door a unique service provider in the region.
"We do whatever it takes to bring your family peace of mind," Mr. Campeau said. "We listen to our clients and make sure every detail is taken care of."
Nurse Next Door – which covers the Seaway Valley as well as Frontenac and Lanark – incorporated in late November and Mr. Campeau expects to begin offering services in late December. The business owners expects to start with a staff of 8-10 people before growing by 40-45 people by the summer of 2019.
A proud Cornwallite, Mr. Campeau said he's excited to launch the business in his hometown and he believes it can lead to much bigger things.
"Cornwall is a prime location that can benefit from this model (of service)," he added. "Setting up in Cornwall will also encourage the young caregivers coming out of St. Lawrence College in the PSW, RPN and RN programs to stay local and work in a rewarding environment."
About Nurse Next Door
Nurse Next Door provides in-home care; a 7 Days a Week, 24 Hour Home Care Team; experts in Alzheimer's & dementia; licensed and bonded caregivers; and nursing services where needed – all with no long-term contracts. Nurse Next Door Home Care Services is Canadian-based franchise with over 140 franchise locations across North America.
You can reach Mr. Campeau by phone at 613-703-7404 or online at:
This story is featured in the 2018 Year in Review Report.