Partnership Program Will Extend Care Beyond Hospital Walls
January 10, 2023
Cornwall Ontario – Cornwall Community Hospital (CCH) is partnering with Bayshore HealthCare Integrated Care Solutions to extend services beyond its hospital walls with the CCH@Home program.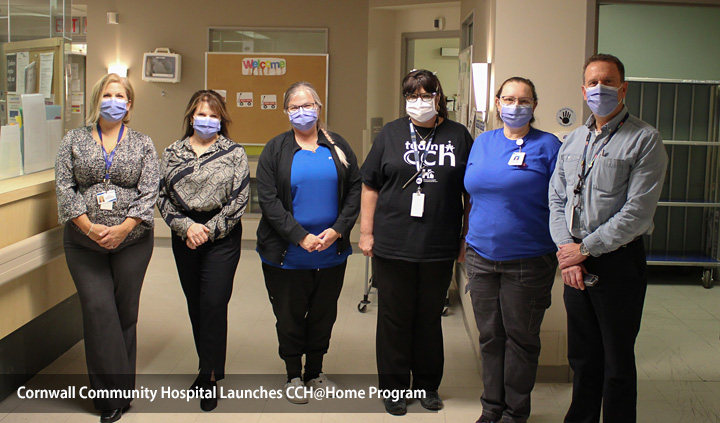 (pictured left to right): Danielle Holler (Regional Director, Bayshore HealthCare), Linda Gravel, Roxanne Lavallee, Joanne Leger, Ashley Walters & Mike Kroon (Cornwall  Community Hospital).
The CCH@Home program will help frail older adults from our area transition safely out of hospital by providing up to 16 weeks of care in their homes delivered by an integrated Bayshore HealthCare team.
CCH staff will meet with eligible patients and families to discuss enrollment in the program, what to expect, and work with them in consultation with Bayshore staff to create a care plan identifying the specific services the individual may need at home, allowing for a seamless hospital discharge and home care experience.
The program's goal is to help speed people's recovery and relieve hospital capacity challenges, specifically by supporting seniors at risk of becoming Alternate Level of Care (ALC) patients — those occupying an acute care hospital bed while not acutely ill — but still requiring additional support.
The program, which is covered by OHIP and available at other hospitals throughout Ontario, is set to begin accepting its first patient referrals from CCH this week.
"The CCH@Home program is an innovative partnership between Cornwall Hospital and Bayshore HealthCare Integrated Care Solutions that will allow more local patients to recover safely in the comfort of their homes. We are excited to be supporting health system integration and transitions in care to better meet the needs of our community," says Jeanette Despatie, President and Chief Executive Officer of Cornwall Hospital.
"The CCH@Home program has been designed with the patient in mind. Bayshore and Cornwall Hospital teams will work closely with the program's patients and families to ensure supports are being provided and goals and needs are being met to advance recovery. We are grateful to be working with Cornwall Hospital to support patients in their local community," says Danielle Holler, Regional Director of Transitional Home Care for Bayshore HealthCare's Integrated Care Solutions.
Last year, CCH released its 2022-2027 Strategic Plan titled Leading Innovative Transformation following several months of engagement with staff, partners, and stakeholders. The plan identifies Establishing Physical Capacity, Promoting Health System Integration, Supporting Transitions in Care, and Advancing Collaborative Partnerships as some of the hospital's strategic priorities for the next five years.
About the Cornwall Community Hospital
The Cornwall Community Hospital has historical roots that reach back beyond Confederation to 1897. Cornwall Community Hospital was incorporated in 2004 with the amalgamation of the Cornwall General Hospital and the Hotel Dieu Hospital, both with over 100 years of health care service to Cornwall and surrounding area. With the completion of a major redevelopment project in 2014, and the construction of the Addiction and Mental Health Centre two years later, the hospital consolidated all acute care and community based services on the McConnell avenue site.
Jobs at CCH
Current employment opportunities at the Cornwall Community Hospital can be found on the Choose Cornwall Job Board
The Cornwall Community Hospital is featured in the 2022 Year in Review report by Cornwall Economic Development.