Paul Deslauriers to Headline Beer, Bourbon, BBQ and Blues Festival
May 15, 2019
Cornwall Ontario – One of Canada's top musicians is coming home to take centre stage at one of Cornwall's biggest summer events.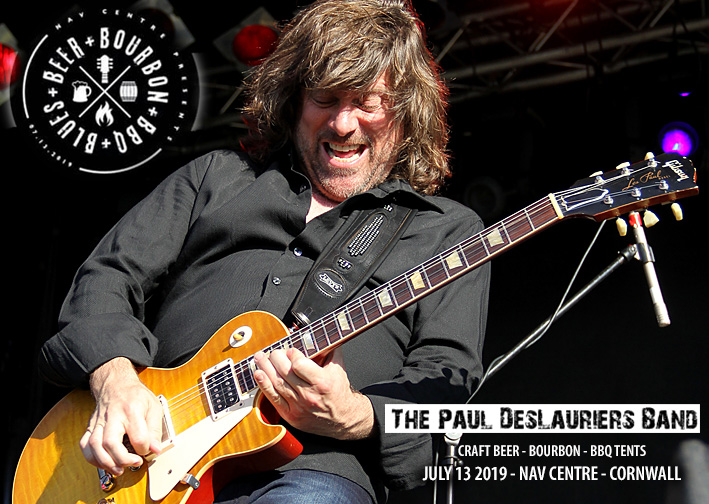 Paul Deslauriers, acknowledged as one of the very best blues guitarists in North America, will be bringing his award-winning  band to the Beer, Bourbon, BBQ and Blues Festival on Saturday, July 13th. Mr. Deslauriers will headline a jam-packed day that will pair an amazing array of food and beverage with top-notch live music.
Tickets are selling fast for the sophomore edition of the festival, which drew rave reviews in its inaugural year. Organizers are expecting an even bigger turnout for year two.
"The response to the festival has been amazing, and we sold over 500 tickets in the first week alone," said Ian Bentley, Director of Conference Services and Food & Beverage at the NAV Centre. "We are really excited to have Paul join us this year, as he was touring Europe last year."
Hosted on the grounds of the NAV Centre overlooking the St. Lawrence River, the Beer, Bourbon, BBQ and Blues Festival gives attendees a chance to try amazing drinks from 22 craft brewers and 11 distillers, along with mouth-watering barbecue creations from Executive Chef Luc McCabe..
"It's the ultimate summer party. Hanging out with friends and family, enjoying great live music and food and drinks. What more can you ask for?" says Mr. Bentley.
Supporting The Paul DesLauriers Band will be Juno award winners Monkey Junk, a top notch blues act in their own right. Cécile Doo-Kingué and the Paolo Stante Band of Montreal round out the lineup.
Craft Breweries include Cornwall's own Rurban Brewery, along with Humble Beginnings from Ingleside, Wood Brothers from Glengarry, Cassel Brewing from Casselman and Beau's from Vankleek Hill. Bourbon, cider, whiskey, wine and other spirts will also be available.
The festival runs from 2 pm to 8:30 pm. Standard tickets are $15 entry (plus tax and online fee) and sample tokens for beer, bourbon and BBQ can be purchased for $3 each inside the event. Samples will be 8 oz. this year instead of 5 oz.
For the first time, people can gain early access into the festival for a unique beer sampling journey with Cornwall's only certified beer sommelier Jay Killoran. Limited spots available!
Also new this year is the opportunity to reserve a VIP tent close to the main stage for $1,000 which includes space for 15 guests, 100 tokens, a personal server and more. Only six tents are available!
Tickets Now Available
Tickets are now available online as well as at the cafe inside the NAV Centre.
Categorised in: Arts and Entertainment, Business, Community, General, News