Perch Magazine Celebrates 5th Anniversary
July 8, 2022
Cornwall Ontario – Perch magazine returns with a dazzling collection of stories, interviews, and photography to celebrate life in Cornwall, Akwesasne and SDG.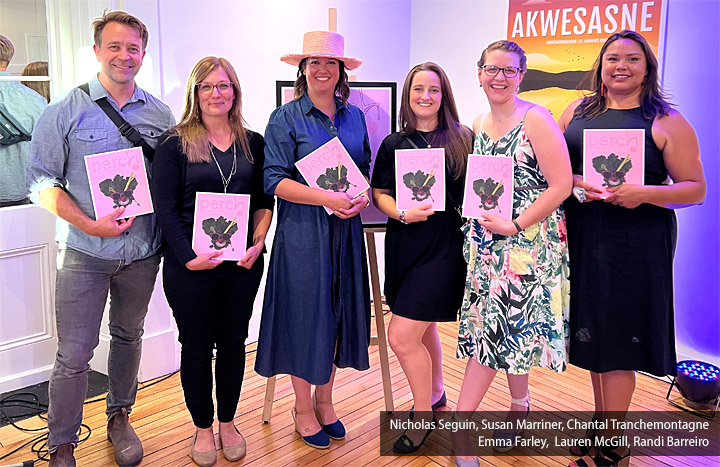 "Perch magazine's 7th issue marks its fifth anniversary," said Chantal Tranchemontagne, Editor-In-Chief. "That's something to celebrate, especially when you consider the more than 600 stories we've covered so far. We couldn't have done that if we didn't live in a region filled with cool and creative people!"
The seventh edition of the independent magazine features nearly 60 pages of stories and images about the people and places that makes this part of Eastern Ontario such an interesting place to live.
"When our team puts Perch together every year, our goal is to give the reader a tiny thrill as they uncover new local treasures," said Chantal Tranchemontagne, Editor-In-Chief. "This edition is no exception, and we hope it inspires residents and visitors to ask questions, explore, and share the hidden gems of our community."
The magazine includes stories on Reen Cook, Akwesasne's legendary radio host; Sammy Hayes, a skateboard artist in SDG; Dayna Gunn owner of dgvintage; and a quick paced "table talk" with three cutting edge Cornwall restaurant owners.
"More and more people are discovering Cornwall, and Perch magazine does a great job of profiling the community and the wonderful people who live here," says Bob Peters, Manager of Cornwall Economic Development.
Print copies of Perch are available at several local businesses and municipal offices including the Tourism Visitor Centre at the Cornwall Civic Complex, Benson Centre, and the Cornwall Public Library. Articles can be found online:
About Big Catch Communications
Perch is published by Big Catch Communications, Cornwall's content marketing agency that uses business storytelling to turn facts into compelling connections with customers. You can connect with Big Catch Communications at:
Categorised in: Arts and Entertainment, Business, Community, General, News