Pitt Street Turns Into Pedestrial Mall on Summer Weekends
July 2, 2021
Cornwall Ontario – A portion of Pitt Street in Downtown Cornwall will be open to pedestrians and closed to vehicle traffic on weekends this summer to make it easier for more residents and visitors to enjoy Cornwall's main street offerings.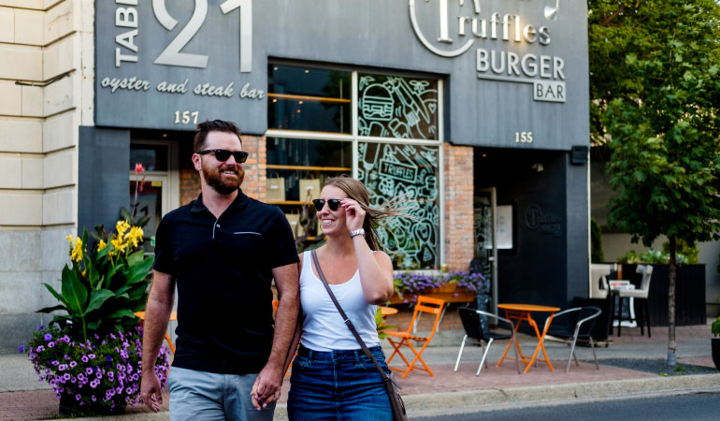 The block of Pitt Street between First and Second streets and a portion of the block between First and Water streets will be closed each weekend to give restaurants and retailers more room to showcase and serve their amazing dishes and offerings.
"Our main street businesses add so much to the make up of Cornwall and City Council wants to support our business community as much as possible," said Acting Mayor Todd Bennett. "We hope residents and visitors take advantage of this new initiative to explore our great Downtown shops and restaurants in a safe and enjoyable new way."
The closures will run each weekend from 4 pm on Fridays to 8 pm on Sundays.
The move to close the street was driven by members of the Downtown business community in collaboration with the Downtown Business Improvement Area, the Cornwall and Area Chamber of Commerce and the City of Cornwall.
"This closure will help us to regain some of the revenue we lost during the Covid pandemic. It will allow businesses to talk over the sidewalk and it will create a spot for people to hang out during the summer," said Hassan Rafiei, the owner of Schnitzels European Flavours, who helped spearhead the initiative. "Last year with the extended patios, we noticed more people out and with this closure it's a guarantee that even more will come to the Downtown."
The closure will build on other ongoing initiatives in the city's commercial core, including expanded patio areas, the placement of additional picnic tables and outdoor seating and the launch of the pop-up artisan containers for another season.
"We're so pumped to see and experience this exciting new vibe that closing the street to vehicles will bring," said Kristin Davey of The Happy Popcorn Co. "We can't wait to see families out and about safely enjoying everything that Pitt Street has to offer!"
Lots of fun popping up
Check out the wares from local artisans and vendors in the Pop-Up Shops located in shipping containers in the Cornwall Square parkette (corner of Pitt and First streets).
About Downtown Cornwall
Cornwall's revitalized downtown offers a growing mix of restaurants and retail stores, beautiful waterfront parks, museums and tree-lined neighbourhoods. Downtown Cornwall is the historical heart of the region, tracing its roots back to 1784. It is the go-to dining and shopping district for both locals and visitors alike. Downtown is immediately north from the sprawling Lamoureux Park which offers scenic views of the St. Lawrence River.
Categorised in: Arts and Entertainment, Business, Community, General, News