Posh Nosh Pastry Confectionery Offering a Tasty Experience
December 19, 2022
Cornwall Ontario  – A recent newcomer to Cornwall is putting his culinary skills to use in a new storefront bakery to satisfy foodies in search of a tasty treat.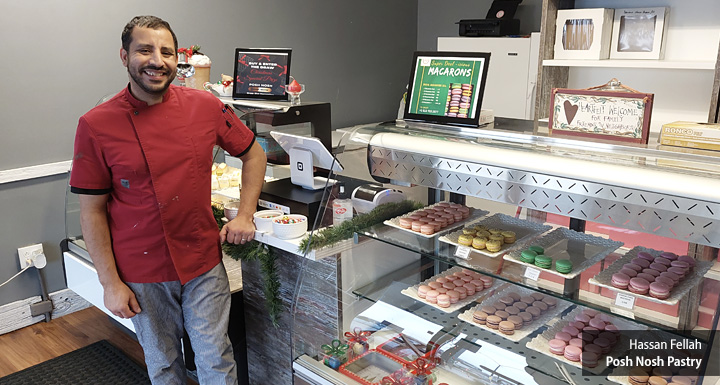 Located at 377 Eleventh Street East, Posh Nosh Pastry Confectionery offers a delectable mix of homemade pastry creations that are sure to satisfy any sweet tooth lover.
The tasty desserts are the creation of owner and chef Hassan Fellah, an entrepreneur with 20-plus years of culinary experience in different settings around the world. Fellah decided to set up roots in Cornwall in late 2021, and the decision to open the bakery soon followed.
"All of my products are homemade and made from scratch. I'm not buying anything that's pre-made," said Mr. Fellah.
Upon arriving in Cornwall, Mr. Fellah began working in the food sector and it wasn't long before the idea of opening a bakery took shape.
"Not a lot of places do individual portions so I decided to follow a European style (confectionery) and offer different kinds of pastries for people to enjoy by the slice or portion."
Posh Nosh offers a variety of items to enjoy ranging from chocolate caramel brownies to cream puffs, tarts, macaroons and more. There are gluten-free options available as well.
"The menu and offering will change from time to time depending on the customer response," Mr. Fellah added. "The feedback so far has been good and I'm excited to welcome more customers to the store."
The business also offers e-gift cards – a perfect stocking stuffer for food lovers everywhere.
Posh Nosh Pastry is open Wednesday to Saturday from 11 am to 6 pm and Sunday from 10 am to 3 pm. For additional information, visit Posh Nosh online:
Posh Nosh Pastry is featured in the 2022 Year in Review report by Cornwall Economic Development.