Public Campaign to Fight the Spread of COVID-19
April 1, 2020
Cornwall Ontario – Only YOU can help stop the spread of COVID-19. That is the message of a new communications campaign to encourage residents to follow the directions of public health officials.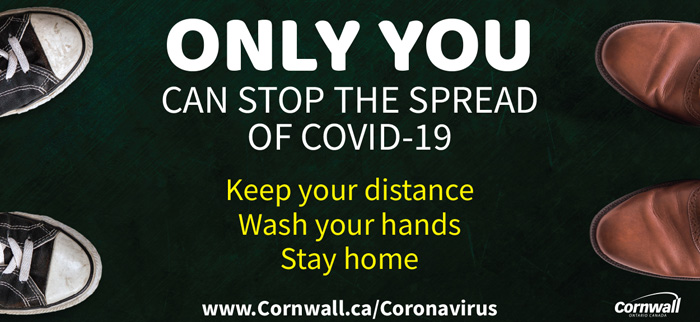 "This isn't a time for panic, this is a time for action," said Mayor Bernadette Clement. "As the number of positive COVID-19 cases in our area grows, we must all understand the importance of following public health advisories on staying home and physical distancing."
The City will be taking out ads in local papers to get the message across and the campaign will soon extend to billboards. A video addressing grocery shopping is soon to be released.
Local businesses are being encouraged to share the message via their road signs, websites and social media platforms.
"While I acknowledge that social distancing takes a toll on the public, people must stay home when possible and avoid non-essential outings," states Dr. Paul Roumeliotis,  Medical Officer of Health for the Eastern Ontario Health Unit. "Besides protecting your family, you'll be doing your part to keep the most vulnerable members of your community safe."
Download Files
The campaign image can be downloaded  in both PDF and JPG formats:
For more information on local community efforts, please visit the City of Cornwall website at www.Cornwall.ca/coronavirus.

We summarize the latest news about the impacts of COVID-19 on Cornwall businesses on a daily basis. Click on the following link to view:
Categorised in: Arts and Entertainment, Business, Community, Environment, General, News, Sports