Raisin River Canoe Race returns on April 10
March 31, 2022
Cornwall Ontario – The race is on! The 49th annual Raisin River Canoe Race is set to take place this year on Sunday, April 10th.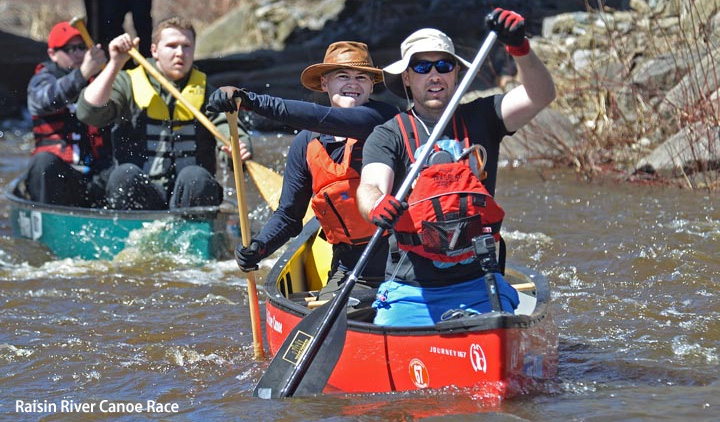 One of the longest canoe races in eastern Ontario, the Raisin River Canoe Race attracts hundreds of participants, who paddle through a 30-kilometre racecourse from St. Andrew's West in South Stormont to Williamstown in South Glengarry while being cheered on by enthusiastic shoreline supporters.
"Ever since the first Raisin River Canoe Race in 1973, the event has been like a rite of spring for both residents and visitors to the area," says RRCA Canoe Race Coordinator Lissa Deslandes. "Thanks to the support from many local organizations and sponsors, as well as the Race Safety Committee, the RRCA has been able to continuously coordinate a successful race throughout the decades."
The canoe race is always held during the spring melt, when water levels on the Raisin River are high and flows are favourable. Contestants get a front-row seat to the natural beauty of the Raisin River and surrounding landscape, as the river's racecourse meanders through agricultural lands, villages, rapids, and forests.
Additional Information
The Canoe Race is organized by the Raisin Region Conservation Authority.  Businesses and organizations looking to sponsor this year's canoe race can contact Ms. Deslandes directly at Lissa.Deslandes@rrca.on.ca.
Local residents and visitors are encouraged to check online for upcoming event details and announcements, such as online pre-registration for participants.
The immensely popular springtime event was cancelled for the last two years due to the Covid-19 pandemic. Covid-19 precautions will be in place for the event, in coordination with local public health officials. For more information, please visit the or call (613) 938-3611 or email info@rrca.on.ca.
Upcoming Events
Looking for other fun things to do in Cornwall? Information on upcoming events can be found on the Cornwall Tourism website at CornwallTourism.com:
Categorised in: Arts and Entertainment, Business, Community, Environment, General, News, Sports