Ramada Cornwall Once Again Taking Reservations
June 8, 2023
Cornwall Ontario – A popular Cornwall accommodation is once again taking reservations in the lead up to the busy summer travel season ahead.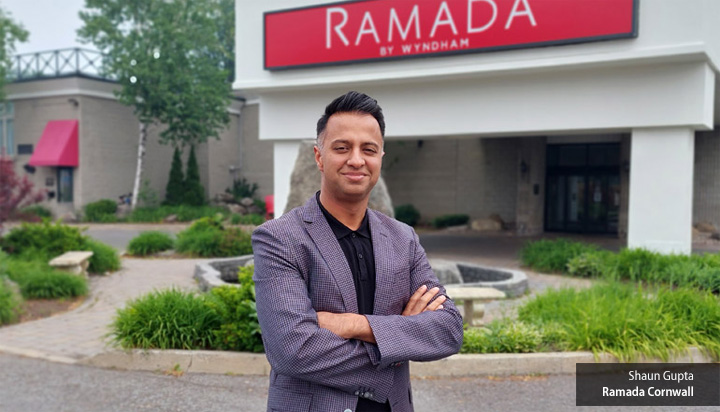 Ramada Cornwall is once again welcoming guests to its Brookdale Avenue property following a transition period that saw a change in ownership and a long-term stay contract with the federal government. That contract is now coming to an end this month and the Ramada team is eager to once again welcome visitors and residents to the 114-room facility.
"We're open and ready for business," said Shaun Gupta, the new owner of Ramada Cornwall. "We're happy to be a part of the community and we know this facility has been a pillar of the community for a long time. We want to continue that tradition going forward."
The accommodation has undergone extensive renovations in recent years with improvements being completed to the majority of the rooms, meeting spaces, fitness facilities and common areas. Rooms are available for booking now, as are the facility's three revamped banquet rooms and various meeting rooms – making it an ideal option for weddings, conferences, meetings and other special events.
"We have good capacity to host large events and we also have a full kitchen (to support events)," Gupta added.
Whether it's leisure travellers, cyclists, sports teams, conference attendees or contractor crews, Gupta said the Ramada is ready to build on its past experience to ensure visitors have a pleasant stay. The fitness centre and indoor pool – expected to open by the end of June – also adds to the hotel's appeal.
"It's a great place to stay for those seeking an easy family getaway and there's lots to see and do in the Cornwall area," he said. "We have a modern product and facility and the majority of our staff have been here for a long time."
Additional Info
Located at 805 Brookdale Avenue, Cornwall Ramada features 114 guest rooms along with an indoor pool, fitness room, indoor lounge and numerous meeting and banquet rooms. The facility is within walking distance to a number of restaurants and shopping centres and a short bike ride to Cornwall's popular Riverside Trail. It's also a short drive away from numerous attractions like the Cornwall Community Museum, Historic SDG Jail, Saunders Hydro Dam Visitor Centre, Rush Hour Escapes and Archie's Golf.
For additional information or to make a room or meeting space reservation, visit the Ramada Cornwall website or call 613-933-8000.
Categorised in: Arts and Entertainment, Business, Community, General, News, Sports