Reach New Heights with Sky Studios Fitness
May 14, 2021
Cornwall Ontario – Looking to mix up your fitness routine and try something new? Consider Sky Studios Fitness – Cornwall's latest gym where people are literally reaching new heights.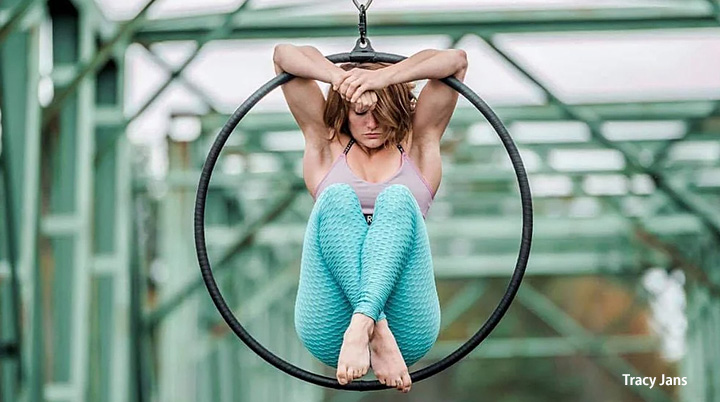 Sky Studios specializes in aerial arts (aerial hoop and pole fitness) and is the brainchild of Tracy Jans.
Mrs. Jans trained in dance and gymnastics as a child and eventually found her passion in aerial arts.  She holds a certification with the Canadian Pole Fitness Association  (CPFA) and continues to compete in both Pole and Hoop CPFA competitions.
Sky Studios Fitness has been designed to be a place where the whole family can feel at home.
"We want to provide a space where people of all ages can try a different type of fitness that will increase strength, flexibility and mobility, all while having fun!" says Mrs. Jans. "We want to bring circus arts to Cornwall, and share our passion for fitness.
Sky Studios is located on Pitt Street North in new renovated space. The business offers both adult classes in aerial hoop and pole fitness as well as junior aerial hoop classes for kids aged 8-15. Also offered is a program called Strong and Flexy, where students will work on functional movements, increasing strength, mobility and flexibility.
"There is no reason why you can't have fun while you work out," says Mrs. Jans. "Aerial arts offers a different way of getting fit, and our goal is to build a tribe of people who build each other up."
Sky Studios is a family owned business. Mrs. Jans is joined by her husband Kevin Jans who is known to many in the community as a movement coach who can teach anything from movement rehab to adult gymnastics. Mr. Jans did most of the renovation work while brother David Jans helped out with the logo and website. Rounding out the team is instructor Amber Pichie.
Sky Studios Fitness is located at 3050 Pitt Street and is open Monday to Friday from 5:30pm to 9pm and on Saturday from 9am to Noon. You can also find them online:
Categorised in: Arts and Entertainment, Community, General, News, Sports