Red Cart Books Turns the Page with New Location
May 13, 2019
Cornwall Ontario – Bookworms from near and far have a new location to discover their next literary gem.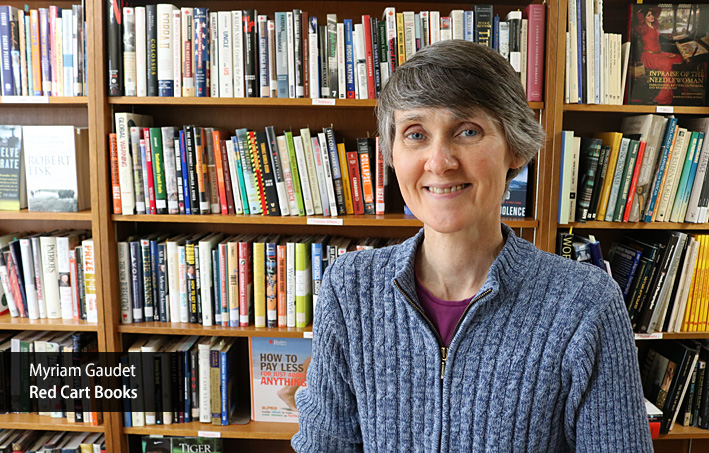 Red Cart Books has opened a new location in the City Centre plaza at 812 Pitt Street in the heart of Cornwall. With an inventory of over 20,000 books and thousands of titles on display in the new location, book lovers are sure to enjoy browsing for that favourite title or author.
"Book lovers love getting lost in a store like this," said Red Cart owner Myriam Gaudet.
Launched by Mrs. Gaudet in 2017, Red Cart has set out to become a conduit between those getting rid of books and those searching for them. After selling online for a year, the business opened a physical space inside Floral Expressions on Pitt Street. The recent opening of the new location a bit further north on Pitt Street represents the next chapter for the business.
And it's much more than just a business for Mrs. Gaudet.
"I'm on a mission to save these books from the landfill," she said.
Mrs. Gaudet is a big believer in re-purposing and her business reflects that – even beyond the sea of books that line the walls. The beautiful wood shelves have been painstakingly re-purposed from materials from a family farm and there's a section of the store dedicated to local artisans, some of which offer re-purposed items.
The elements add another layer of charm to the business, and while it may have taken longer to complete, it did create savings in hard costs, energy and the environment.
"The time to make all this is actually savings (compared to future environmental costs of not re-using)," she said.
The bookstore features virtually every genre you can think of, from textbooks to popular works of fiction and everything in between. The result is a bookstore that offers unique finds, from the James Patterson novel that one customer couldn't find elsewhere to the Stephen King titles that another customer needed to replace in their collection.
"You never know what people will be looking for," she added.
Mrs. Gaudet accepts books in return for a credit towards a future purchase at the store and she also takes titles on commission. The owner tries to balance her pricing so that they remain affordable while also discouraging dealers from simply buying them for cheap and re-selling them at a higher cost.
"People are welcome to drop off books and whatever doesn't fit (in the store) will be stored," she said.
As the store inventory continues to grow, the eventual plan is to open the off-site storage location on a weekly basis for book lovers to explore. For now, the focus is on finding new homes for her books, one title at a time.
"I want to connect people who are getting rid of their books with the people who want them," she said.
About Red Cart Books
Red Cart Books is a small but growing bookstore located at 812 Pitt Street (Unit 52) in the City Centre plaza. Books are available for purchase in person or by mail, the company ships anywhere in the world that Canada Post delivers to.
Red Cart Books is open 10 am to 3 pm Monday to Wednesday, 10 am to 5 pm on Thursday and 10 am to 5 pm on Saturday. For additional information, check out Red Cart Books online:
Categorised in: Arts and Entertainment, Business, General, News