Rent a Bike and Explore Cornwall's Riverside Trail
June 7, 2021
Cornwall Ontario – Cornwall's traffic-free, waterfront-lined cycling trails have helped make the city a preferred cycling destination.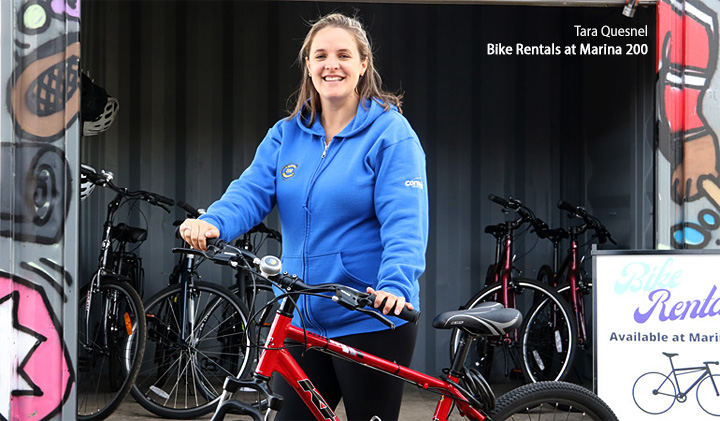 The scenic Riverside Trail – part of the larger Waterfront Trail network extending across Ontario – stretches over 40 kilometres from Cornwall all the way to Upper Canada Village, with countless attractions, outdoor spaces and landmarks along the way.
With such a beautiful offering at your doorstep, it only made sense to offer visitors and residents the tools to fully enjoy it. Cornwall's Marina 200 did just that last season with the launch of a bike rental program at its scenic facility along the Cornwall waterfront just east of the Cornwall Civic Complex – a perfect place to park and head out on the trail for a day of adventure.
The bike rental program was launched last summer once the pandemic guidelines were loosened and travel restrictions were eased. And as expected, it didn't take long for interest in the venture to get rolling. Bike Rentals will be available once again this year starting this Friday, as Ontario moves into Step One of the Roadmap to Reopen.
"We saw a lot of interest in the bike rentals and it continued to grow as the summer went on," said Marina 200 Coordinator Tara Quesnel. "There were some rentals from local residents but we also welcomed quite a few visitors from other parts of eastern Ontario and Quebec as the summer went on."
The marina regularly caters to out-of-town boaters throughout the season, and some of them became natural customers as well.
"There were a number of visiting boaters who took advantage of the bike rentals to explore our amazing waterfront or even run some errands," Quesnel added.
With its extensive network of trails and its recent designation as a 'Silver' Bicycle Friendly Community, Cornwall is definitely on a roll when it comes to cycling. The waterfront bike rental service only adds to that positive momentum around cycling.
"We're expecting it to be another busy summer and we're already getting enquiries about the rentals," she added.
Visitors will be able to rent the bikes for an hour, four hours or a full day, and the rentals are available daily from 8 am to 6 pm.
Additional Information
For additional information on bike rentals at Marina 200, please call 613-932-8301 or visit the Cornwall Tourism Cycling Page.
Related Articles