Ribfest Promises Tasty Summer Fun
July 25, 2023
Cornwall Ontario – Concerts, carnival rides, artisans, food vendors and, of course, ribs. Cornwall Ribfest is back in a big way!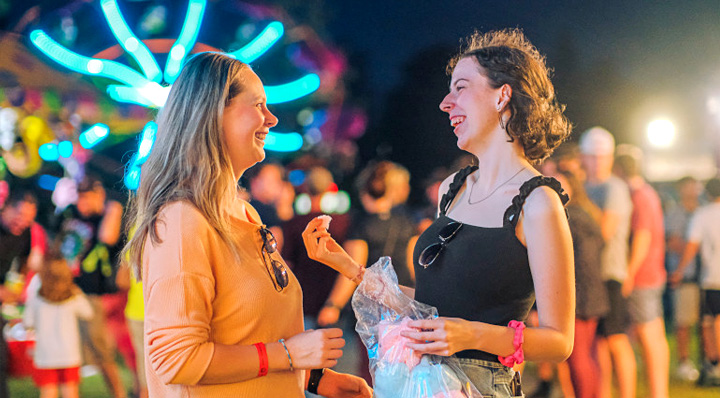 Cornwall's biggest summer festival returns in full force this year to beautiful Lamoureux Park. The four-day event kicks off on Thursday, July 27th and runs through Sunday, July 30th. There is no entry fee.
"We're excited about this year's festival and the great lineup of entertainment and activities that we have planned," says Terry Muir of the Optimist Club of Cornwall, the driving force behind the festival.
In addition to the fantastic entertainment lineup, visitors can enjoy a kids zone, a huge midway, a beer garden and other activities to go along with the ribs, chicken and pulled pork that will be served up in large quantities. There will be a variety of other food and non-food vendors on site, including many new ones to go along with all of the old favourites (yes, we're talking about you, mini donuts and blooming onions).
Food
This year's Ribfest will feature five all-star ribbers – Crabby's, Ribs Royale, Fat Boys, Texas Rangers and Mississippi Smoke House. The ribbers will be serving up their mouth-watering food from 11 am to 11 pm Thursday, Friday and Saturday and 11 am to 6 pm on Sunday.
Visitors can enjoy a variety of other foods ranging from ice cream and mini donuts to blooming onions and more. There will also be some local favourites on hand like Sip N' Scoop, The Happy Popcorn Co., Weenies on Wheels, Wow India, Fat Bastard Burritos and more!
Midway and Kids Zone
The Ribfest midway features more than a dozen carnival rides and games set up for festivalgoers to enjoy. The midway will run from 4 pm to 10:30 pm on Thursday, 11 am to 10:30 pm on Friday and Saturday and 11 am to 6 pm on Sunday.
Midway bracelets are $35 (per person) in advance or $45 on site and that includes unlimited rides for the day of purchase! The bracelet pre-sale ends on Wednesday, July 26th. Online orders can be picked up at The Seeker office at 327 Second Street East. Entry to the midway is free and you only have to purchase a bracelet or tickets if you plan to go on the rides.
Ribfest will also feature a kids zone with inflatable castles to enjoy, free of charge, during the afternoon each day of the festival!
Entertainment
This year's Ribfest entertainment lineup might be the best yet. Come out and enjoy some great free live concerts!
The full entertainment schedule is as follows:
Thursday
4pm – 7pm – Ribfest Idol
7:30 pm – The Shiners
9:30 pm – Don't Stop Believin! (Journey Tribute)
Friday
3 pm – Butcher Boys
4:30 pm – Growing Fires
6 pm – Shot of Whiskey
7:30 pm – Capital Beatles (Beatles Tribute)
9:30 pm – Queen Flash (Queen Tribute)
Saturday
1:30 pm – Fork in the Road
3 pm – Escape the Population
4:15 pm – The Hallions
5:30 pm – Fatal Vision
7:30 pm – County Lads
9:30 pm – The Northern Pikes
Sunday
11 am – Us With Wolves
12:30 pm – Jukebox Junkies
2:30 pm – Grace and the Hopeless Wanderers
4:30 pm – Solid Gold Revival
Beer garden
Grab a cold beverage in the Ribfest beer garden and enjoy the live tunes in the park! The beer garden will be open Thursday from 3 pm to 11 pm, Friday and Saturday from 11 am to 11 pm and Sunday from 11 am to 6 pm.
More Info
More info about the event is available online:
Categorised in: Arts and Entertainment, Business, Community, General, News