Ribfest Returns to Cornwall July 25-28
July 16, 2019
Cornwall Ontario –  BBQ ribs, chicken and the fixings will be the choice of many as one of the summer's most popular festivals returns to Lamoureux Park. Ribfest 2019 takes place from Thursday, July 25th and continues on until Sunday, July 28th – offering four full days of deliciousness and fun!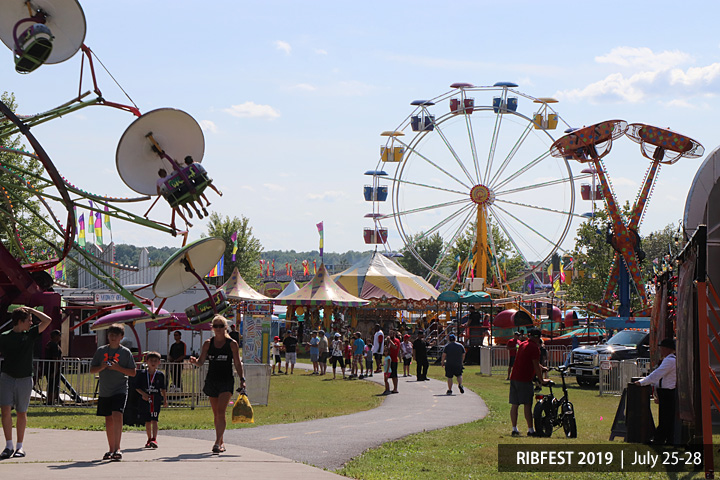 Once again ribbers from across North America will compete for awards voted on by their customers. Participating ribbers this year include Ribs Royale, Chop Shop, Texas Rangers, Mississippi Smoke House, Crabby's and Smokehouse Bandits.
Last year the Optimist Club raised close to $70,000 for community causes, and once again the volunteer group has planned a wide array of activities that include live entertainment, beer garden, midway rides, vendors, and a kids zone. There is something for everyone, and the best part is that admission to the festival is free!
There is ample free parking at the Cornwall Civic Complex or Cornwall Community Museum on Water Street, just steps from Lamoureux Park. There is also nearby on- and off-street parking available in Downtown Cornwall.
Dates and Times
Ribfest runs from 11 am – 11 pm on Thursday, July 25th, Friday, July 26th and Saturday, July 27 and 11 am – 7 pm on Sunday, July 28th. The event is held in beautiful Lamoureux Park along the St. Lawrence River in Downtown Cornwall.
Midway Tickets
You can buy advance tickets for unlimited rides for one day for just $25 (compared to $30 at the event)at the Cornwall Tourism Visitor Information Centre at the Cornwall Community Museum. The office is open daily from 8:30 am to 4:30 pm and cash is the sole method of payment.
Entertainment
There's a great lineup of music to suit all tastes! Here's the rundown:
Thursday July 25th
◆ 4:30 pm – Ribfest Idol
◆ 5:30 pm – Opening Ceremonies
◆ 6 pm – Bordertown Catz
◆ 7:30 pm – Symply Skynyrd (Lynyrd Skynyrd tribute)
◆ 9:30 pm – Just Heart (Heart tribute)
Friday July 26th
◆ 2:30 pm – Mena Hardy
◆ 4 pm – The Everlongs (Foo Fighters tribute)
◆ 5:30 pm – The Outlandos (The Police tribute)
◆ 7:30 pm – Bad to the Bone (George Thorogood tribute)
◆ 9:30 pm – Abbamania (ABBA tribute)
Saturday July 27th
◆ 12:30 pm – Cardiff Giant
◆ 2 pm – Bird King (Classic 70's)
◆ 3:30 pm – Stacey's Mom (Rock, Pop, R&B, Country)
◆ 5:30 pm – Lost Boyz (80's)
◆ 7:30 pm – Parallel Universe (Red Hot Chilli Peppers tribute)
◆ 9:30 pm – Epic Journey with Roy Nichol (Journey tribute)
Sunday July 28th
◆ 12 pm – Radio Nova
◆ 1:30 pm – The Hallions (Celtic Rock)
◆ 3:30 pm – Double Vision (Foreigner tribute)
◆ 5:30 pm – Epic Eagles (Eagles tribute)
To get the latest news and updates on Ribfest, make sure to follow their Facebook page or check out their website, www.CornwallRibfest.com.
There's lots of other fun events going on in Cornwall during Ribfest, including Art Walk on Friday night, the Downtown Summer Celebration over the weekend and the Into The Haunting Public Ghost Hunt at the Port Theatre on Saturday night. Find out about these and other events by checking out the Cornwall Tourism Events Calendar!
Categorised in: Arts and Entertainment, Business, Community, General, News