Ring in the New Year at the Seaway International Wine Festival
December 16, 2019
Cornwall Ontario – Great wine and food, spirits, microbreweries and amazing live entertainment. You can find all that – and much more – at the Seaway International Wine Festival on Saturday, January 18th at Ramada by Wyndham Cornwall.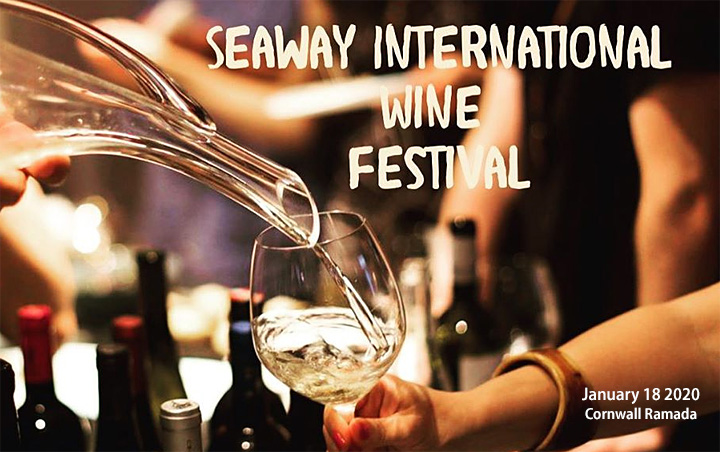 The popular winter festival is back for its 17th year and guests can expect a full night of entertainment to go along with samples of tasty wines, beer and spirits from around the world. It's a great way to beat the winter blues and celebrate with friends, family and loved ones while sampling some amazing international flavours.
"We have 18 beverage vendors with a few more still to be confirmed," said Ramada owner Scott Lecky.
In addition to the wine offerings, there will also be some breweries and distilleries in attendance to go along with some great food offerings.
"What makes the event so unique and special is our Celebritiy Chef, Luc McCabe, who will be serving up some sizzling eats," Mr. Lecky added. "We will have wines, beers and spirits from all over the world along with delicious in-house catered food and live entertainment from Montreal. It's an amazing night out."
Shaharah and Nicole 'Coco' Thompson will lead the on-stage entertainment – a big piece of what makes the festival a can't-miss event for so many.
In addition to promising a great time, the festival also gives back to the community by supporting a non-profit organization each year. This year's organization of choice is the River Institute. Based in Cornwall, the River Institute delivers knowledge, education, technical services and community outreach to improve the health of the St. Lawrence River and other large river ecosystems.
Since its inception, the festival has raised nearly $250,000 in support of various Cornwall organizations.
Doors for the event open at 6 pm.
Ticket Information
Tickets to the Seaway International Wine Festival are $110 per person and they can be purchased at Ramada Cornwall (805 Brookdale Avenue or 613-933-8000).
You can also make a night of it! Discounted rooms are available at Ramada starting at $119 per night with a hot buffet breakfast included!
Categorised in: Arts and Entertainment, Business, General, News