River Institute Receives Prestigious NSERC Award
May 7, 2019
Cornwall Ontario – The River Institute has been formally recognized with a National Award for Science Promotion.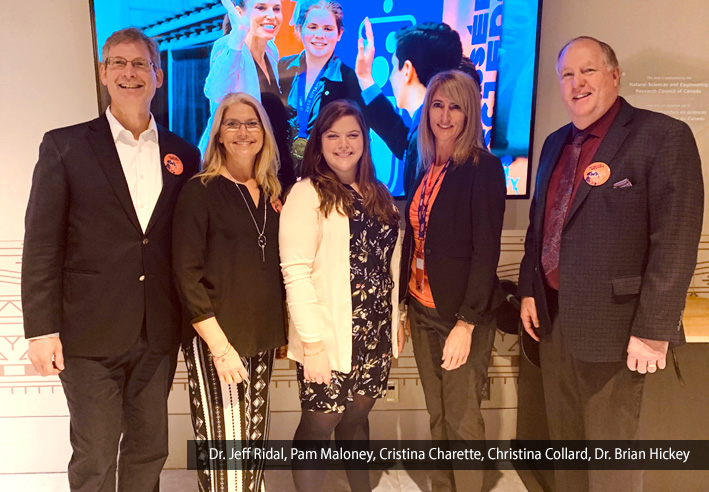 The award comes from the Natural Sciences and Engineering Research Council of Canada (NSERC) and honours individuals and groups who make outstanding contributions to the promotion of science in Canada through activities that encourage children and young adults to take an interest in science, and even turn it into a career.
This year, the River Institute was chosen for its innovative science-based education and outreach programs delivered in Eastern Ontario, and its work to improve the health of the St. Lawrence River and other large river ecosystems.
"Our Government knows that in today's competitive, knowledge-based global economy, encouraging young Canadians to pursue careers in science and research is critical," stated Honourable Kirsty Duncan, Minister of Science and Sport. " That's why we are investing in the people and programs that bring science to life and inspire young Canadians to pursue their curiosity and ignite their love of science."
The $25,000 NSERC award will support future educational programs  at the River Institute for young people in the region.
A delegation from the River Institute was present to receive the award recently at the Museum of Nature, in Ottawa.   "This recognition from NSERC is a great honour for all of us at the River Institute," said Dr. Jeff Ridal, Executive Director of the River Institute. "We are grateful and proud to be chosen as the recipient, especially in our 25th Anniversary year."
Minister Duncan also launched this year's edition of Science Odyssey, Canada's science and technology festival delivering fun and engaging events for Canadians of all ages.  Powered by NSERC, the 16-day event celebrates Canadian STEM achievements and connects people with scientists, researchers, teachers and citizen scientists at hundreds of events in communities across the country.
The River Institute will celebrate Science Odyssey with a 'Lunch and Learn' series every day this week. Residents are invited to come to the River Institute for lunch and hear scientists talk about their work.
About the River Institute
The River Institute is a non-profit, charitable research centre located in Cornwall, Ontario, Canada. Its mandate is research, education and community action relating to large river systems, with a focus on the St. Lawrence River ecosystem. A non-governmental organization, the River Institute works in partnership with a wide variety of individuals, groups, agencies and communities to fulfill its environmental mission.
Categorised in: Business, Community, Environment, General, News