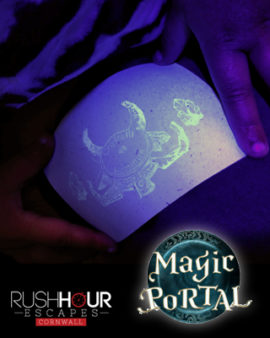 Rush Hour Escapes Launches New Outdoor Games
July 12, 2018
Cornwall Ontario – Rush Hour Escapes has quickly established itself as a favourite attraction in the Cornwall area with its challenging real-life escape room games.
Now, the Downtown Cornwall business is taking its winning formula outdoors with a pair of new outdoor adventure games – Magic Portal and Operation Mindfall.
These innovative new team games combine elements of GPS and geocaching, live escape games and augmented reality technology to produce a whole new group experience. It's like being in a video game, with Cornwall serving as the backdrop for the adventure. It's like a classic treasure hunt mixed in with virtual characters appearing in real places. It's trying to find places and solve tricky riddles in a race against time. It's all of the above – and it's extremely fun.
"It's a truly unique experience for residents and visitors looking for a memorable adventure," said Rush Hour Escapes owner Colleen Campbell. "It's an out-of-this-world experience in a real-world environment. These outdoor adventure games are growing in popularity around the world and we are excited to bring them here to Cornwall."
As with escape rooms, the games are played in groups, and teamwork is key to ensuring a successful mission.
Magic Portal
Magic Portal is a family-oriented game intended for children 8 and older (one player must be 18+). In this game, the group of young heroes must help save the world from what has been unleashed out of the magic portals, solving clues and riddles along the way. The game incorporates parts of Lamoureux Park and teams can embark on the mission from either the Cornwall Community Museum during the morning or early afternoon or Rush Hour Escapes (52 Pitt Street, above Echo Trends) during the afternoon and evening. The game lasts two hours or less.
"This is a great group event for children's birthday parties or school groups," said Mrs. Campbell. "It's a fun and challenging event that is sure to engage and excite children."
Operation Mindfall
This adult-oriented game sees a group of secret agents working against the clock to solve clues and riddles and stop an evil agency from world domination. The game plays out right in Downtown Cornwall. The game lasts two hours or less.
Videos of both Operation Mindfall and Magic Portal can be viewed on the Rush Hour Escapes website, which also includes pricing and other information.
Escape Rooms
In addition to the new outdoor games, Rush Hour Escapes offers two thrilling escape room experiences in its space at 52 Pitt Street (above Echo Trends). The escape experiences are called Gallery Heist and CSI: Cornwall Murder, in which groups of 2-8 must work together to find clues and crack the codes to escape in time.
Rush Hour Escapes is located at 54 Pitt Street in Cornwall and can be reached by phone at 613-935-5000. You can learn more online:
Categorised in: Arts and Entertainment, Business, News