Saunders Hydro Dam Visitor Centre Wraps Up Summer of Fun and Learning
October 3, 2023
Cornwall Ontario – From workshops on fishing basics to lessons on Indigenous culture, there was plenty to do this summer at OPG's Saunders Hydro Dam Visitor Centre.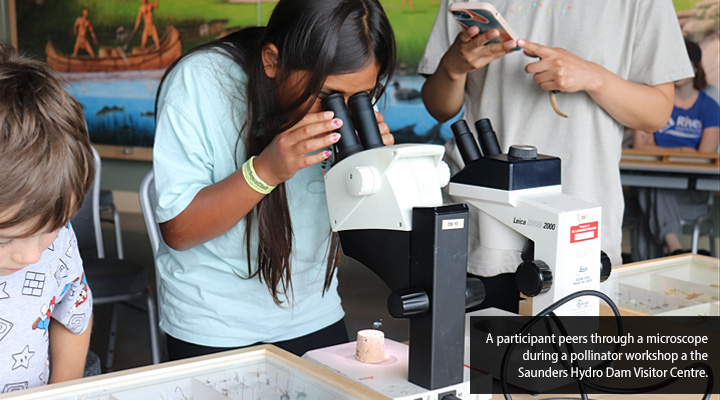 More than 6,500 people from all over the world, from Memphis to Morocco to Nigeria, visited the popular tourist attraction in Cornwall from June to September, capping another successful summer season.
The centre offered a diverse range of fun and free programming for all ages, as well as interactive exhibits and information on the development of the St. Lawrence Seaway and Power Project, one of the greatest engineering achievements of the 20th century.
The Canada-U.S. initiative established the sprawling cross-border Moses-Saunders Hydro Dam for hydroelectric power generation in Ontario and New York. OPG owns and operates the 16-unit, 1,045-megawatt R.H. Saunders Generating Station on the Canadian side of the border, which marked its 65th anniversary of operation in July.
"We interacted with a variety of guests, from kids to older folks, some of whom even worked on the Seaway project," said Cameron Baggs, one of four student interns who gained invaluable experience working at the centre this summer. "We made sure everyone felt welcomed and I enjoyed helping to educate visitors about our local history."
A total of 17 events were hosted by the visitor centre this summer, offering something for everyone to enjoy – from science and technology, to environmental and biodiversity, to the local and Indigenous history of the area.
Events included a "Get ready for fishing" workshop in partnership with Blue Fish Canada, which promoted sustainable fishing and water safety; a collaborative workshop called "From log to basket" that demonstrated the art of Mohawk basketmaking from black ash and sweet grass; and various Scientists in School lessons that engaged families in hands-on experiments inspired by Leonardo Da Vinci, including creating functional catapults.
In addition, partners like the River Institute and Tackleshare offered visitors a chance to take a deeper dive to discover the fish and other species living in the St. Lawrence River as well as learn about animals, biodiversity, and science.
Visitor centre staff also facilitated several tours of the nearby R.H. Saunders station and hosted special visits from nearby schools as well as youth summer camps.
"Being part of the planning and organizing for these events was a high point for me, as well as meeting people from all over the world," said student intern Kacie Byam, reflecting on her time working at the centre.
With another busy tourist season in the books, the Saunders Hydro Dam Visitor Centre is now closed to the public. However, educational tours and meetings can still be booked through vcreservations@opg.com.
To learn more about the centre and upcoming events, visit OPG.com/eastern.
Categorised in: Arts and Entertainment, Business, Community, Environment, General, News