Second edition of TASTE profiles Cornwall Pizza
October 29, 2018
Cornwall Ontario – Some people come from miles away for a taste, others have actually had it shipped to them when away from the city for a while.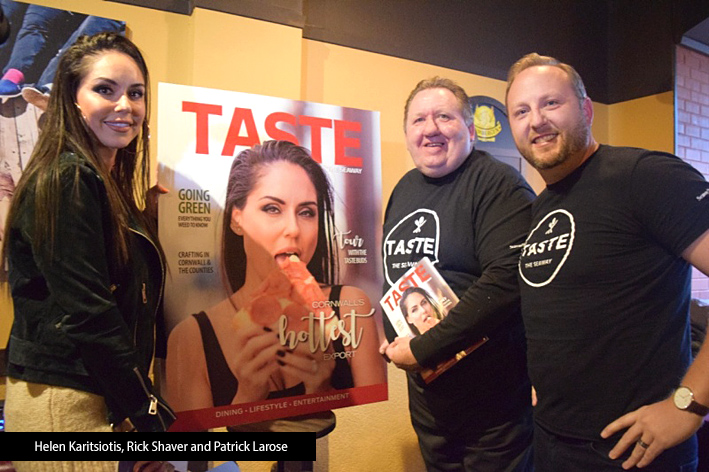 Yes, Cornwall Pizza is unique, and arguably our hottest export. The local take on one of the most popular foods in the world is the cover story for the second edition of TASTE magazine, which is produced by Seaway News. The cover features Helen Karitsiotis from King George Restaurant, one of several popular local restaurants that have a well deserved reputation for making some amazing pizza.
The glossy 68 page magazine is produced by Seaway News, and carries a number of stories on dining, lifestyle and entertainment.
"TASTE is a way for us to showcase that you never have to leave your own backyard to find great dining, shopping & entertainment options," says Patick Larose, Media Strategy Manager for Seaway News. "I'm surprised with the amount of people that live in our area that haven't been to some of the great restaurants, shops and entertainment venues we have available. We're hoping that our readers will be enticed to expand their pallet and step towards an appetite for adventure."
This year's edition includes recipes using local ingredients sourced from the region and a story about cooking with cannabis. It also features stories about tattoos, events, local music, and where to find hot new fashion and grooming products.
"When it comes to high end shopping, specialty dining, coffee, tea and entertainment you need not drive out of Cornwall," says Rick Shaver, General Manager of Seaway News. "Cornwall business are brewing up new ideas, they showcase excellent fashion and our theatres are rocking out great shows and performances. TASTE is about living in our community."
TASTE was launched last year to build upon the success of the popular Cornwall Living magazine.  Content was sourced from local writers and photographers and put together a modern professional layout designed by creative director Colleen Parette.
Over 20,000 copies of TASTE were produced. The magazine is available in racks throughout the city as well as at popular local store and restaurants.
You can request a copy of the magazine, along with other publications.
Categorised in: Arts and Entertainment, Business, General, News