Shop in Cornwall Campaign Returns for the Holiday Season
November 13, 2018
Cornwall Ontario –  Community and business officials are once again touting the benefits of shopping local this holiday season.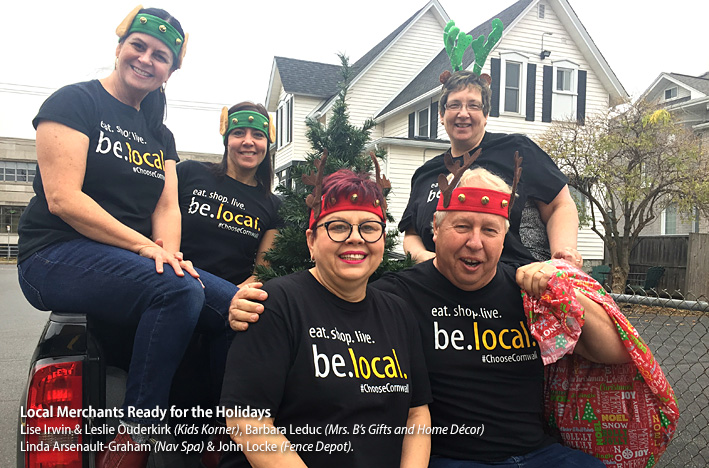 The 2018 Shop Local campaign officially gets underway today, highlighting the positive impact of investment from local small business that directly benefits the arts community, health care programs, minor sports and charitable agencies. The support of these small businesses is made possible by the patronage of consumers.
"Our small businesses employ hundreds of local people and give back to the community by supporting the arts community and charitable organizations," says Rory McLennan, President of the Chamber. "Likewise support for local health care and sports programs is crucially important. We hope that area residents will return the favour by continuing to support our local stores and restaurants."
The 2018 Shop Local campaign will encourage residents to think about supporting a local enterprise when it comes to holiday purchases via radio, social media and print communications.  The campaign is being spearheaded by the Cornwall Chamber of Commerce and local BIAs, and is supported by Cornwall Economic Development.
Every dollar that is spent locally supports the local economy, including wages and commerce. Online shopping may seem attractive, but many shoppers do not realize that shopping locally can be just as convenient yet positively impact their neighbours and their community.
"Local merchants can quickly bring in a product that you have found online, or may already have it in the store," says Todd Lihou, Centretown Coordinator with Heart of the City. "Shopping locally also makes it easier to exchange, repair or return a product."
Shopping Contest
Shoppers are encourage to snap a picture of themselves making a purchase at a local business. The photos can be sent to the We Shop in Cornwall page on Facebook or to the Chamber and/or BIAs. Those who post pictures will have their names entered into a draw to win $500 towards their "Shop Cornwall" purchases. You can view the photos (and contest details) online here:
T-Shirts
The be.local. t-shirts that proved popular last year (and depicted in the photo above) are back this year, available for $20 at both the Cornwall and Area Chamber of Commerce (113 Second Street East) and Cornwall Economic Development (100 Water Street).
More details on the shop local campaign will be available over the coming weeks. Check out the following websites for more information about local merchants:
Categorised in: Arts and Entertainment, Business, General, News