Snowbirds to Fly Over Cornwall Today
May 7, 2020
Cornwall Ontario – The world famous Canadian Forces Snowbirds Aerobatics Team is scheduled to fly over Cornwall today at approximately 4:30pm.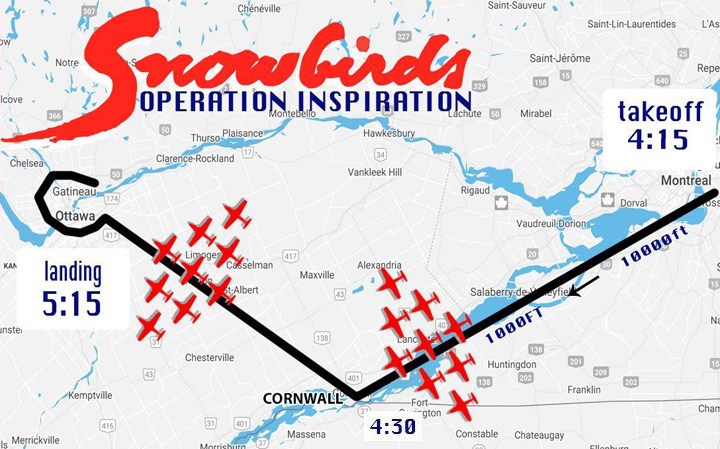 The Canadian Forces Snowbirds are crossing the country in their signature nine-jet formation to salute Canadians doing their part to fight the spread of COVID-19.  This unique mission is being aptly dubbed Operation Inspiration.
Cornwall and Ottawa
The Snowbirds will takeoff from Montreal at around 4:15 p.m, lowering to 1000 ft (at the height of flypast) near Salaberry-de-Valleyfield. Following the St. Lawrence River, they will flypast Cornwall at around 4:30 p.m, then via St-Albert; circling over the city of Ottawa and landing at Gatineau by around 5:15 p.m. Flyovers will occur at an elevation no lower than 500 feet above all obstacles.
"Every year, the Canadian Forces Snowbirds travel the country putting smiles on the faces of Canadians," said Lieutenant-General Al Meinzinger, Commander Royal Canadian Air Force. "While Canadians may not be able to gather at air shows for now, we're honoured to bring the Snowbirds team to Canadians and to pay special tribute to them."
Prime Minister Justin Trudeau announced the Snowbirds' cross-Canada tour during his daily news conference Wednesday, describing the plan to deploy the red, white and blue Tutor jets as an effort to "salute Canadians doing their part to stop the spread of COVID-19."
"As we watch the Snowbirds fly over our homes, let's remember that we are all in this together."
About the Snowbirds
The Canadian Forces Snowbirds, 431 Air Demonstration Squadron are a Canadian icon comprised of Canadian Armed Forces members and National Defence Public Service employees. The Snowbirds fly Canadair CT-114 Tutor aircraft.
Serving as ambassadors of the CAF, the CF Snowbirds bring thrilling performances of precision flying and aerobatic manouevers throughout the year.  Team membes demonstrate the high level of skill, professionalism, teamwork, discipline and dedication inherent in the men and women of the CAF and they inspire the pursuit of excellence wherever they go in North America.

We summarize the latest news about the impacts of COVID-19 on Cornwall businesses on a daily basis. Click on the following link to view:
Categorised in: Arts and Entertainment, Business, Community, General, News