Spring Exhibition Celebrates Local Art
April 20, 2023
Cornwall Ontario – Looking to let a little art into your life? Focus Art's popular Spring Art Exhibition is back and is showcasing the talents of local artists at Cornwall Square over the next several days.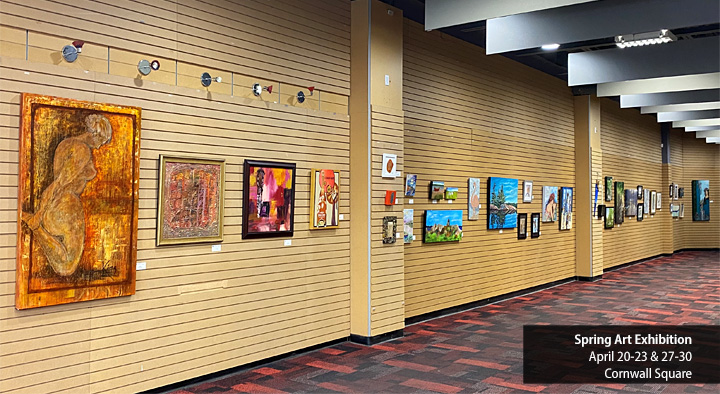 The show is located on the second level near the food court, across the aisle from Coles book store.
"It is awesome to see so many different pieces of art that celebrate different styles and mediums," says Shauna Baggs, a local artist who has 3 paintings in the exhibition. "We have so much talent in Cornwall and the Counties and it is inspiring to see all of the art in one place."
The art includes paintings in acrylic, oil, watercolour and mixed-media, and covers a wide range of subjects. Many of the art pieces are for sale but will not be sold on site. Information about each artist is available for patrons to enquire about purchasing a piece directly.
Spring Art Exhibition – Dates and Times
The show runs from April 20 thru April 23, and again from April 27 thru April 30 at Cornwall Square. Times are noted below:
Thursday and Friday: 10am – 6pm
Saturday: 9:30am – 5:30pm
Sunday: 11am – 3pm
"Cornwall Square, has for numerous years, welcomed the Focus Art Association Spring and Fall Art Exhibitions promoting local artists and their talents," says Leo Doucet, Property Manager at Weaving Baskets Group. "Cornwall Square and its ownership, WBG, are pleased to once again provide the Focus Art Association with the venue to showcase the creative efforts of local and area artists. and wish all involved a successful 2023 Spring Art Exhibition."
About Focus Art
Focus Art is a non-profit association of approximately 75 artists in Cornwall and SDG. You can find Focus Art online:
Categorised in: Arts and Entertainment, Business, Community, General, News