St. Joseph Continuing Care Centre to Build Innovative Physical Therapy Space
March 24, 2023
Cornwall Ontario – St. Joseph Continuing Care Centre (SJCCC) will soon be home to a new innovative physical therapy space for patients admitted to its Slow-Paced Rehabilitation program in Hotel Dieu Hospital.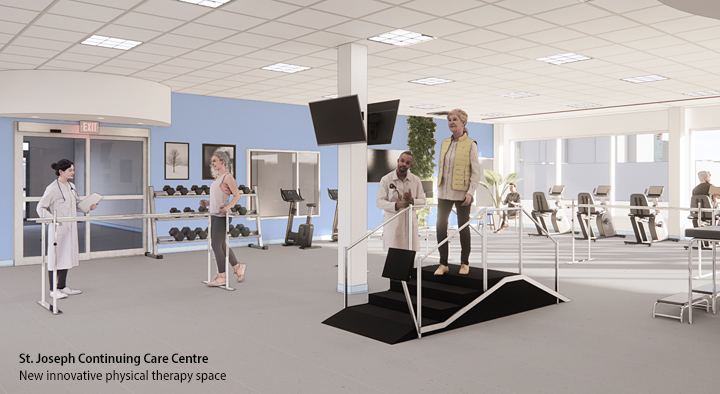 A first of its kind in Cornwall, the new space will provide an additional 2400 square feet for patients to strengthen as they prepare for their return home. Construction is planned to begin in April 2023.
The new space will feature state-of-the-art equipment, large windows for natural light and will allow SJCCC to expand its programs to offer small and large group programming, 1-on-1 sessions, and wellness events.
"Since 2017, SJCCC has been transforming its services to better cater to our community's seniors population, in order to offer hope and options for them to regain the confidence necessary to thrive at home. This expansion is one more step in our journey, and we are so excited to offer a progressive approach to a growing need for seniors," said Gizanne Lafrance-Allaire, Executive Director at SJCCC.
The need for additional space became apparent during the COVID-19 pandemic with the Rehabilitation program having to continuously pivot its day-to-day programs. With the threat of outbreaks, exercise, and strength training programs had to be completed in the patient's room, stairwells, and hallways.
SJCCC provides inpatient rehabilitation services to seniors following illness, injury, surgery, and other adverse events. It encourages people to be as independent as possible in everyday activities, fosters confidence, and enables them to take control of their own health. The Rehabilitation program has grown exponentially and additional space is required to provide the best experience for its patients.
In 2004, SJCCC underwent major construction bringing Hotel Dieu Hospital and St. Joseph's Villa together to its York Street location. Initially constructed for patients receiving Complex Continuing Care, Hotel Dieu Hospital underwent an internal transformation to accommodate the community's need for a new Rehabilitation program.
The Centre first began offering the program in 2017 to 208 patients. The program has continued to grow and in 2022, 341 patients were admitted.
"This has been a dream of ours since day one," said Leesa McNally, Director of Therapeutic Services at SJCCC. "Our Rehabilitation program has been so successful that we need to increase our space to better support our various therapeutic programs for seniors."
Individual length of stay varies depending on the patient and their goals, ranging from a minimum of 2 weeks up to a maximum of 90 days – with an average length of stay of 59 days. Once they leave the Centre, patients are enrolled in SJCCC's Remote Care Monitoring program, which follows their journey home for an additional period – at no cost to the individual.
"This is an exciting time for all of us at SJCCC. We have the opportunity to enhance the care we deliver. This new space welcomes patients to experience its benefits encouraging them to work as a community to inspire, transform and elevate their health" said McNally.
Stronger Together Fundraising Campaign
SJCCC has partnered with their Foundation the RHSJ Health Centre Fund of Cornwall to launch "Stronger Together", a fundraising campaign to raise $680,000 over the next few years. Construction is expected to take 8 months with a grand opening in early 2024.
Jobs at SJCCC
St. Joseph Continuing Care Centre is looking to fill open positions. You can find links to SJCCC jobs on the ChooseCornwall.ca Job Board. SJCCC will also be at the Cornwall and Area Job Fair on March 29.
About St. Joseph Continuing Care Centre
St. Joseph's Continuing Care Centre (SJCCC) was founded by the Religious Hospitallers of St. Joseph, whose history in Cornwall dates back to 1897. The Centre is located in Downtown Cornwall and offers Long-Term Care in St. Joseph's Villa and Complex Continuing Care & Adult Rehabilitation in Hotel Dieu Hospital. More information can be found on their website: