St. Lawrence College Extends Popular Automotive Training Program
May 29, 2023
Cornwall Ontario – St. Lawrence College has extended its partnership with the Automotive Industries Association of Canada (AIA Canada) and the Government of Ontario to continue delivering new auto care industry training to help address shortages in the industry's workforce.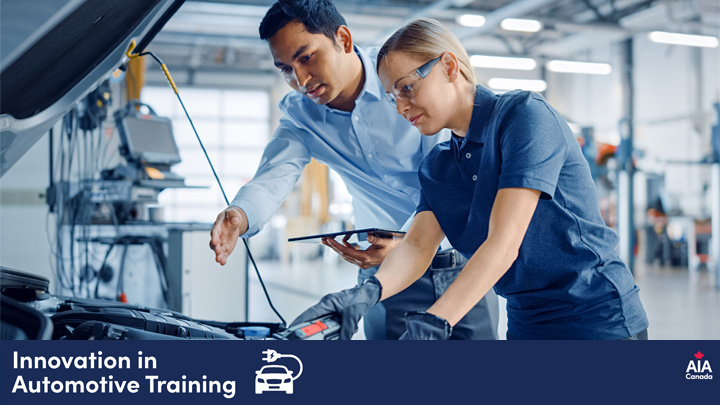 The continuation of the training program is made possible round three of the Ontario Government's Skills Development Fund, which will build on the success of round two and has been expanded to include new the partners, new training locations, and new curriculum. The goal of the project is to address two challenges facing Ontario's auto care industry: a shortage of automotive tradespeople and the need for automotive tradespeople to be upskilled so that they can service modern cars, including electric vehicles (EV).
SLC began the new automotive training in partnership with the AIA Canada last fall on its Cornwall campus, delivering Innovation in Automotive Training. The next phase of the project will consist of the development and delivery of two training programs:
The first is an EV, hybrid, and Advanced Driver Assistance Systems Technologies (ADAS) training program. The module-based program will provide employers with free training in modern vehicle technologies that they can offer their workers. It is also open to high-level apprentices, the industry's future workforce.
The second is an exploration of the automotive trades training program, which is open to job seekers without cost, and breaks the stigma by exposing participants to how technology has changed the type of work that automotive tradespeople do. Upon completion, participants are well-positioned to find an employer sponsor to pursue an apprenticeship.
"We're thrilled by this announcement today which reaffirms college's role in training and skills development for the jobs of tomorrow," said Glenn Vollebregt, SLC President and CEO. "SLC has a long-established reputation and history of being at the forefront and it's gratifying to be recognized by the government and provided with the funds to offer relevant, timely, and the in-demand training required by the automotive industry."
The skills shortage is a consequence of modern vehicle technology changing the cars that we drive. To diagnose and repair modern cars, automotive tradespeople working at independent auto care shops need new skills. The labour shortage is a result of several factors, including the stigma associated with a career in the automotive trades.
"Careers in the auto sector are meaningful, well-paying, and for many people, offer a path to a better life," said Monte McNaughton, Minister of Labour, Immigration, Training and Skills Development. "Our government will continue to invest in innovative training programs that help people gain the skills they need to land life-changing jobs so they can earn bigger paycheques for themselves and their families."
Automotive tradespeople that work in the auto care industry provide Ontarians with essential vehicle repair and maintenance services that keep Ontario's more than 9 million vehicles in road-safe condition.
"Getting working automotive tradespeople the skills that they need and getting more people into the automotive trades is essential," said Jean-François Champagne, AIA Canada President. "Without, car owners across Ontario, particularly those in small and remote communities, will have less access to, and will pay more for, essential auto care."
About the Innovation in Automotive Training program
The Innovation in Automotive Training program is an Employment Ontario program that is funded in part by the Government of Canada and the Government of Ontario. It is run by a partnership between the Automotive Industries Association of Canada (AIA Canada), St. Lawrence College, Conestoga College, Fanshawe College and Plug 'N Drive, to offer two complimentary training programs to develop new expertise and skills in the auto care industry.
For more information about the program, visit ev-training.ca.
About the Automotive Industries Association of Canada
The Automotive Industries Association of Canada (AIA Canada) represents, supports and leads innovation in Canada's $37.8 billion auto care sector. AIA Canada's best practices for the auto care industry helps more than 4,000 members keep Canada's fleet of almost 26.6 million vehicles on the road.
About St. Lawrence College
St. Lawrence College is an integral part of the economic life and social fabric of Eastern Ontario, with campuses in Kingston, Brockville, and Cornwall. St. Lawrence College consistently ranks as one of Ontario's leading community colleges, preparing students for the global economy with relevant, practical, and experiential learning opportunities. Offering over 100 full-time programs, St. Lawrence College is a close-knit community of 10,000 full-time students and more than 100,000 alumni.
You can find out more information on the St. Lawrence College website: