St. Lawrence College Hosting Event on New Canadian Perspectives 
November 16, 2022
Cornwall Ontario – St. Lawrence College (SLC) is inviting members of the Cornwall campus community and the general public to join a conversation around "New Canadian Perspectives" – discussing the human side of immigrating to Canada. Learn from the experiences and decisions new Canadians navigate as part of their journey and explore what it means to leave community and culture behind for something completely new.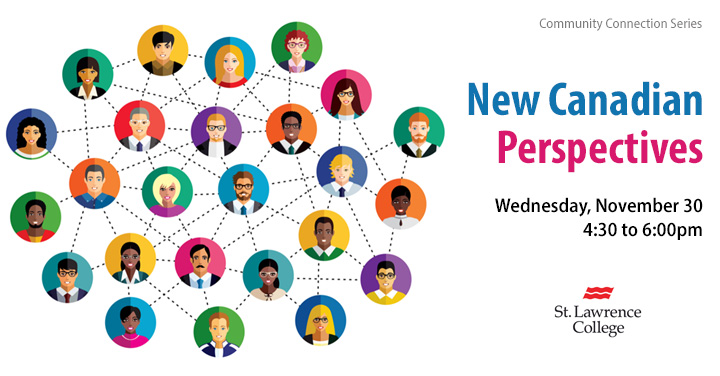 "The event is part of the SLC Community Connection Series, which reflects the College's commitment to engaging with community while helping advance topics that are relevant to our students and our partners," says Dr. Richard Wiggers, Dean of the Cornwall Campus and moderator for the event. "SLC aims to collaborate on solutions while fostering relationships that help build thriving communities on and off our campuses in Eastern Ontario."
The speakers at the New Canadian Perspectives event are as follows:
Muhammad Owais Aziz – Professor, School of Interdisciplinary Studies, St. Lawrence College
Richard Webster – International Education Manager, Community Development
Corine Kapkop – SLC student
Students, employees, and community partners are invited to learn from people's lived experiences about what made a difference as their journey unfolded, what impacted their decisions, and how things are going now that they are here. More and more people are living – or know someone who is living – the new Canadian experience, and this event will educate attendees on realities and possibilities for community and individuals to engage.
Event Details
New Canadian Perspectives

Wednesday, November 30
4:30 to 6:00pm
Aultsville lobby, St. Lawrence College's Cornwall campus
This is a free community event open to the public, however space is limited, and attendees are asked to register ahead of time. Light refreshments will be served.
About St. Lawrence College
St. Lawrence College is an integral part of the economic life and social fabric of Eastern Ontario, with campuses in Kingston, Brockville, and Cornwall. St. Lawrence College consistently ranks as one of Ontario's leading community colleges, preparing students for the global economy with relevant, practical, and experiential learning opportunities. Offering over 100 full-time programs, St. Lawrence College is a close-knit community of 10,000 full-time students and more than 100,000 alumni.
You can find out more information on the St. Lawrence College website:
Related Articles