Webinar to Help Local Companies Hire International Students
October 17, 2022
Cornwall Ontario –  Is your company currently recruiting? Do you offer part-time employment opportunities?  Do you anticipate growth on the horizon?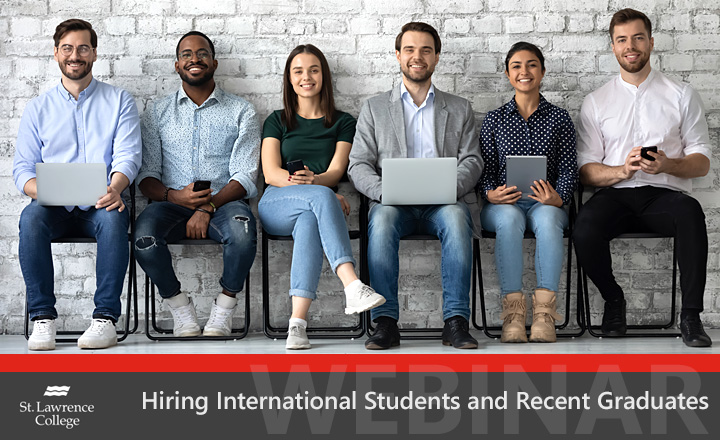 If you answered yes to any of the above questions, you will find value in an upcoming interactive webinar called Hiring International Students and Recent Graduates to Support Your Workforce Needs.
The webinar is presented by St. Lawrence College and sponsored by the Ministry of Economic Development Job Creation and Trade – Business Advisory Services.
St. Lawrence College (SLC) welcomes international students from over 60 countries to our region every year – and those students become trained in a wide variety of the College's 100+ career-focused programs. Over 1,100 students attend the College's Cornwall campus, with 400 of those being international students.
"Many of our students look for part-time work while studying and often wish to remain and work here in Eastern Ontario after graduation," says Richard Webster, SLC's International Education Manager of Community Development. "International students offer local employers a unique opportunity to expand the capabilities of their workforce."
Webinar Details
The webinar will be held on two separate occasions, and is open to any local employer. The webinar will:
outline more about this talented and growing demographic, including employment requirements, hiring benefits, common pathways and important employer considerations;
identify how St. Lawrence College can further support you; and
provide you with the opportunity to share your needs and questions as employers.
Click on the following links to register:
The webinar will be delivered via the Microsoft Teams online platform. There is no cost to participate.
Jobs in Cornwall
There are an estimated 500 unfilled jobs in Cornwall, and many local employers have hired international students. Canada is lifting the 20-hour-per-week cap on the number of hours that eligible post-secondary students are allowed to work off-campus while class is in session. Current employment opportunities in Cornwall and the surrounding region can be found on the Choose Cornwall Job Board
Related Articles