St. Lawrence College In-Person Fall Semester Under Way 
September 19, 2022
Cornwall Ontario – St. Lawrence College (SLC) is welcoming 600 new students to its Cornwall campus this fall. A total of 1,162 students will be walking the halls of the campus this semester, with 400 of those being international students, making the campus a richly diverse environment.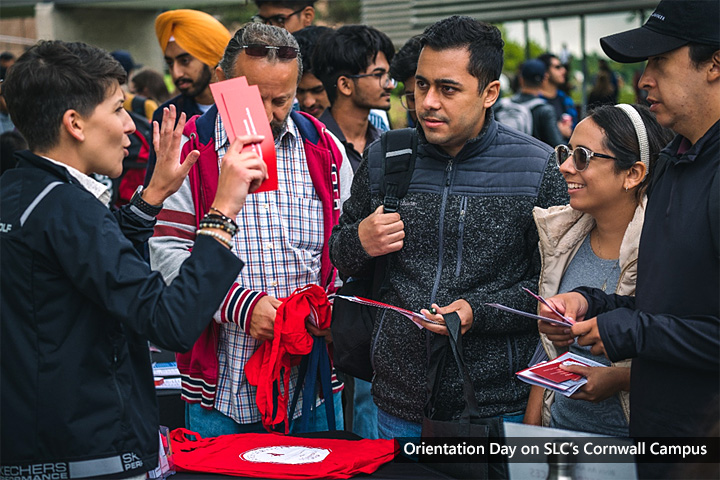 "The energy and excitement on campus is inspiring and on behalf of the SLC team, I congratulate all learners starting their academic journey. You've arrived here through some truly remarkable times, and with a lot of hard work," said SLC President and CEO, Glenn Vollebregt.
"SLC is a community where everyone belongs," Vollebregt said. "We are committed to providing a learning, working, and general environment where everyone feels welcome, and can learn, work, or enjoy SLC while being free from discrimination. We do this by holding ourselves to high standards of equity, diversity, and inclusion while also increasing education and awareness; I am excited to meet our students and learn from their diverse backgrounds and experiences."
SLC also has an amazing number of services, resources, and options available to all students to ensure student success, according to Richard Wiggers, Dean of the Cornwall campus.
"From wellness and mental health counselling and resources to education and awareness about sexual violence and prevention, we can all be equipped to help, to speak up, or to act as an ally for someone who needs it," Wiggers said. "The college continues to evolve, whether in terms of program offerings, or growing the ways we connect with community and we are excited for another great year of learning and innovation."
A wide variety of programs are available on the Cornwall campus, including accounting, marketing, and human resources as well as general arts and sciences, police foundations, its own stand-alone Bachelor of Science in Nursing degree, practical nursing, personal support worker, and early childhood education. Technical and skilled trades programs are available in carpentry, welding, computer technology, and game programming. Programs in environmental technology, supply chain management, game programming, and paramedic are are unique to the Cornwall campus.
SLC+, the College's Continuing Education and Corporate Training opportunities, offers a collection of learning opportunities that extend beyond traditional academic programming, including upskilling or reskilling with a micro credential, pursuing a new interest, or driving business innovation. Learn more.
About St. Lawrence College (SLC)
St. Lawrence College is situated on the traditional lands of the Anishinaabe and Haudenosaunee peoples; we are grateful to live and learn on these lands. With campuses in Kingston, Brockville, and Cornwall, SLC delivers education and training that meets the needs of community, industry, and employers. The College prepares students to succeed in the global economy through relevant, practical programs and experiential learning opportunities. SLC offers more than 100 full-time programs including diplomas, degrees, graduate certificates, apprenticeships, micro-credentials and life-long learning opportunities. Everyone belongs in the SLC community, comprised of 12,000 full-time students and more than 100,000 alumni in 75 countries around the world.
You can find out more information on the St. Lawrence College website:
Categorised in: Arts and Entertainment, Business, Community, Environment, General, News, Sports