St. Lawrence College Launches Micro-Credentials
June 10, 2021
Cornwall Ontario – Micro-credential courses are now available at St. Lawrence College.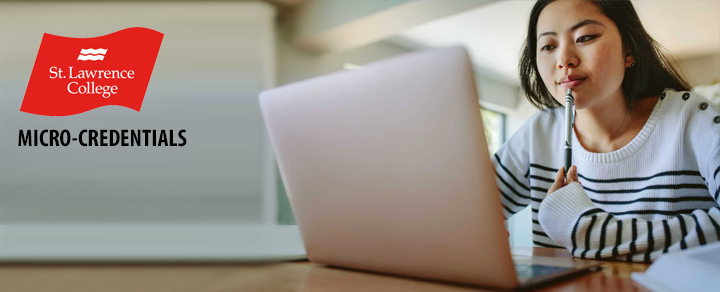 Micro-credentials are short, competency-based training opportunities that focus on "in demand" workplace skills. They can be taken individually or stacked to build larger certificates, and multiple micro-credentials may serve as pathways to other SLC programs. Each micro-credential earned comes with a digital badge that can be shared with employers and added to a digital profile or portfolio.
"Micro-credentials allow the student to pursue training at their own pace, and are accessible to both people already employed or those looking for work," says Richard Wiggers, Dean of St. Lawrence College's Cornwall Campus. "Over time, short duration skills training will support the development of a talent pipeline to ensure continued prosperity and sustainability of local businesses."
The following  "mega" micro-credentials consist of a number of micro-credentials or units that are online, open for continuous entry, and available at a very reasonable fee for service.
Logistics
Tourism & Hospitality
Cybersecurity
Additional micro-credential courses will be rolled out over the coming weeks and months.
Related Articles
St. Lawrence College Receives Funding for New Training Initiatives
About St. Lawrence College
St. Lawrence College is an integral part of the economic life and social fabric of Eastern Ontario, with campuses in Kingston, Brockville, and Cornwall. St. Lawrence College consistently ranks as one of Ontario's leading community colleges, preparing students for the global economy with relevant, practical, and experiential learning opportunities. Offering over 100 full-time programs, St. Lawrence College is a close-knit community of 10,000 full-time students, and more than 100,000 alumni.
You can find out more information on the St. Lawrence College website: