Stonehouse Lounge and Grill Opens to Rave Reviews
February 8, 2020
Cornwall Ontario –  The Stonehouse Lounge and Grill has opened to rave reviews… offering a new culinary experience overlooking the St. Lawrence River.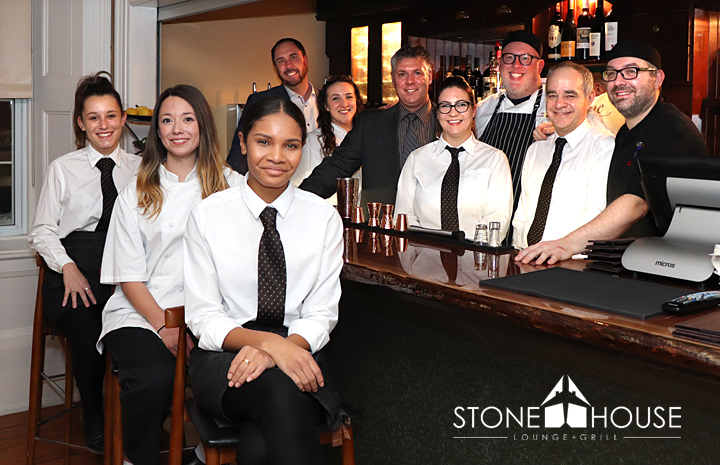 Cornwall's latest restaurant in the city's east end in the original home that was situated on what is now the sprawling campus of the NAV CENTRE.
"It has been a dream to breathe new life in this beautiful building and open our doors to the both local residents and vistiors says Ian Bentley, Director Conference Services and Food & Beverage. "We're beyond excited that it's finally happening."
The Stonehouse Lounge and Grill offers dining seating for 40 guests, along with an additional 26 seats in the lounge. The historic building retains much of its original charm, and is complimented by new furniture and artwork. Each table has been custom made from black walnut by a local craftsman, and the ambiance is at once both comfortable and classy.
The menu has been designed by the NAV CENTRE's Executive Chef Boopathi Venkatesan and Sous Chef Gabriel Asselin and will feature unique and delectable options, including shareable appetizers, grilled steaks, fresh fish and a range of chef's specials. Guests will also be able to enjoy a great wine selection, high end spirits, local draft beer and crisp cocktails exclusive to the Stonehouse.
"The Stonehouse is the perfect compliment to the Jet Set Pub and Propeller Restaurant," says Mr. Bentley. "It  offers a more intimate dining experience and will be managed by our new Stonehouse and Jet Set Pub Manager, Christopher Cram, who will be relocating to the city bringing his experience from Jasper, Edmonton and the Toronto area."
The Stonehouse Lounge and Grill will be open Thursday, Friday and Saturday nights from 5 pm to 11 pm. The NAV CENTRE will continue to offer the executive retreat and meeting space during the day to clients.
To make reservations, please call 613-936-5444 or visit the Stonehouse's website:
About the NAV Centre
The NAV CENTRE is the largest hotel and conference centre in Eastern Ontario, offering a one stop and all-inclusive getaway experience for a diverse range of world-class event possibilities – from business meetings and conferences, to public receptions and private celebrations.  It offers access to 535 guest rooms, 70 state-of-the-art classrooms and meeting rooms, as well as an auditorium. Amenities include a gymnasium, pool and fitness facilities as well as multiple dining options. The NAV CENTRE is also an accredited member of the International Association of Conference Centres (IACC), provided for adhering to globally-recognized standards in hospitality service.
Categorised in: Arts and Entertainment, Business, Community, General, News