Tauro Restaurant adds Unique Dining Option to Cornwall's Food Scene
August 8, 2023
Cornwall Ontario – Cornwall's newest dining destination has opened its doors, and there's a familiar face at the helm.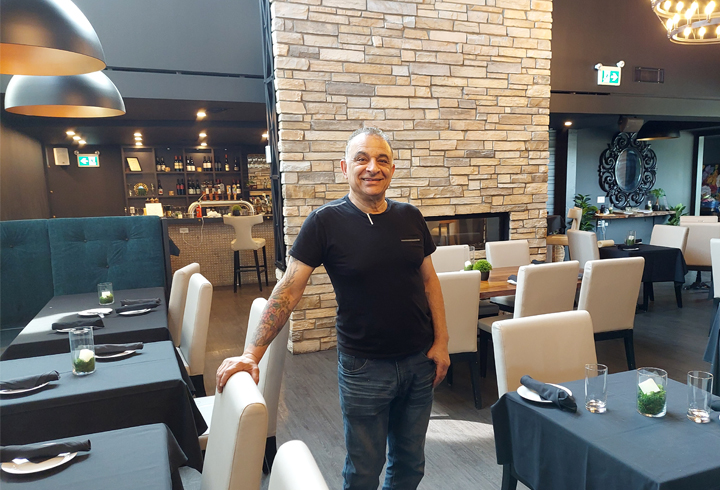 Tauro Restaurant is now welcoming diners to its modern, renovated space at 903 Brookdale Avenue, just north of the Ramada Inn. The restaurant offers a tantalizing selection of steaks, seafood, pasta, salads and one-of-a-kind appetizers in a warm and inviting space.
"My goal is to create a memorable dining experience for our visitors that they will remember," said Chef Ahmad Mansori. "I want to create a wow factor and I want our guests to leave thinking, 'Wow that was different'."
Mansori is no stranger to Cornwall's dining scene. He previously owned the iconic Table 21 and Truffles Burger Bar in Downtown Cornwall and helped raise the bar for exquisite dining in the city. Mansori is excited to return to the scene with Tauro, and he has brought many of the beloved staff from his previous restaurant with him.
"I do it from the heart and my entire staff is very passionate about what we do," he added. "It's all about the experience."
Visitors can expect to find an array of creative new dishes on the Tauro menu to go along with some old Truffles and Table 21 favourites like peanut butter dumplings, escargot, mussels and Truffle mac and cheese, to name a few.
The Tauro menu has something to suit every taste, from steaks and seafood to raw oysters, rack of lamb, grilled octopus salad and a number of other savoury specialties. The restaurant also has a full bar with Rurban Brewing and Lost Villages Brewery on tap.
"Everything we do is fresh and the steaks and vegetables are all sourced locally. We try to use local ingredients as much as possible," Mansori said.
The chef said the response to date has been great and central location on Brookdale Avenue is ideal.
"People are loving it so far and we're excited for the future," he added.
The restaurant has seating for 100 indoors (with a private room available) and an additional 30 on the outdoor patio.
Tauro Restaurant is open Thursday to Saturday from 5 pm to 11 pm and Sunday from 5 pm to 9 pm and there are plans to introduce a Sunday brunch service in the future.
Reservations are encouraged by calling 613-932-7741 or emailing taurofinedining@gmail.com.
For additional information on Tauro Restaurant, check out their website (https://taurorestaurant.ca/) or Facebook page (https://www.facebook.com/profile.php?id=100092971232183).
Categorised in: Arts and Entertainment, Business, Community, General, News