The Birchwood Cafe Adds New Zealand Flair to Downtown
December 3, 2019
Cornwall Ontario –  A strong focus on home-style food, with a New Zealand twist!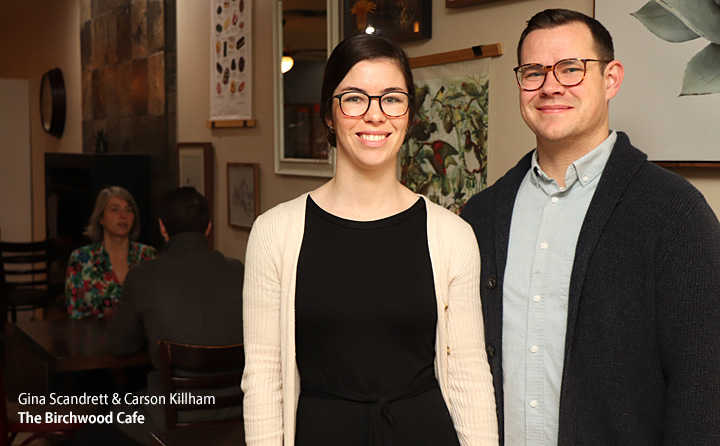 Downtown Cornwall added to its cosmopolitan cred with the opening of The Birchwood Cafe, a new restaurant born from the creative energies of Calgary chef Carson Killham and New Zealander Gina Scandrett.
"The Birchwood Cafe is all about creating a space where everyone is welcomed, and part of that is ensuring there is great food and coffee available," said Carson Killham. "Our menu changes daily so there is always something new and exciting to experience."
Buzz about the new restaurant meant that there was a steady stream of patrons on its first day.
The Birchwood Cafe offers a daily cabinet style menu for breakfast and lunch. The menu will be country-rustic dining and introduce people to kiwi classics such as Anzac biscuits, slices and meatpies. Also on offer are a range of house-made jams, chutneys, hot sauces, pestos and frozen meals to take home.
"Cafes with daily menus are a mainstay in my home country of New Zealand and I'm excited to bring a taste of that experience to the Cornwall area," said Ms. Scandrett. "Cornwall and the downtown area has welcomed us with open arms. There are many people doing innovative and inspiring work in the area already and we are looking forward to becoming part of this community."
Situated in 2000 square feet at street level, the restaurant has received a significant makeover and offers comfortable seating for 35.  It will be open Monday to Friday from 8am to 4pm each day. The Birchwood Cafe is fully licensed and is available to host various events from wine dinners to corporate functions to baby showers and everything in between. Chef Killham is also looking to host themed dinners once a month.
Chef Killham and Ms. Scandrett met in Calgary and recently moved to Cornwall to be closer to family.
"I have been in the restaurant industry for my whole life and it has always been a dream to open up something myself," says Chef Killham. "The opportunity arose in Cornwall and I'm excited to be part of the growing downtown area."
About The Birchwood Cafe
The Birchwood Cafe is located at 109 Pitt Street and is open Monday to Friday 8am-4pm and open for events by request. You can reach the Cafe at 613-938-0101 or online at:
Categorised in: Arts and Entertainment, Business, Community, General, News