Celebrate with the Cornwall Summer Fun Guide
June 12, 2019
Cornwall Ontario -Summer is finally here and there will be no shortage of ways to celebrate the sunshine and warm weather in Cornwall.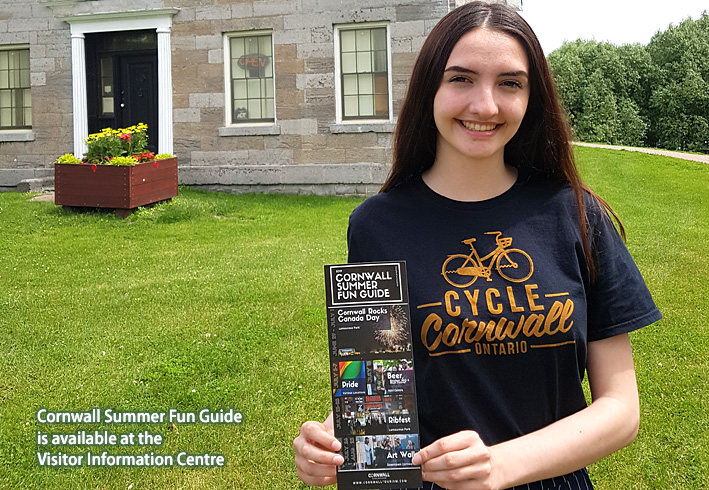 There's a tonne of fun, cool and exciting events and activities planned throughout the summer in Cornwall.
Cornwall Tourism has put together a Summer Fun Guide that gives a quick rundown on some of the biggest festivals planned for this year. You can pick one up at any of the tourism brochure racks throughout the city – or drop by the Visitor Information Centre located at the Cornwall Community Museum in Lamoureux Park.  The friendly Tourism staff will be happy to help you start planning your visit!
Of course, it's impossible to put every event into one guide – so be sure to visit Cornwall Tourism's Events Calendar for a complete lineup of events taking place in Cornwall and area. In the meantime, here are some of the bigger events:
Cornwall Rocks & Canada Day
June 29 – July 1
Lamoureux Park
Celebrate Canada's birthday with a full weekend of music, family activities and of course, fireworks! This year's festivities will feature two nights of music on Saturday and Sunday leading into Cornwall's annual Canada Day celebration on Monday, July 1st. Headliners for this year's bash include Cornwall rockers Barstool Prophets and Cornwall songstress Melanie Brulée.
Cornwall Pride 2019
July 5 – 7
Various Locations
Get ready for Cornwall's energetic, upbeat and inspirational Pride Parade! Come on out to show your support and take part in 3 days full of fun, love, and pride! Everyone is welcome at Cornwall's Pride Days! One of the highlights will be the Pride Parade starting at 11am on Sunday, July 7th followed by a family-friendly festival in Lamoureux Park!
Cornwall Ribfest
July 25-28
Lamoureux Park
Get your bib on for Cornwall's Ribfest, taking place on multiple days at the end of July in beautiful Lamoureux Park. Enjoy carnival rides, top-notch live entertainment and of course, mouth-watering ribs! BBQ? Spicy? No matter your preference, there's going to be a flavor there for you!
Beer, Bourbon, BBQ and Blues Festival
July 13
NAV Centre
Beer, Bourbon, BBQ and Blues festival is returning to Cornwall's NAV Centre. Sample some of the tastiest brews from across the region, while enjoying a hearty helping of BBQ meats. Top the evening off with an awesome lineup of live entertainment, including Cornwall's own, The Paul Deslauriers Band. Tickets are going fast so don't delay in getting yours for one of Cornwall's biggest parties of the summer.
Art Walk
June 28, July 26, August 23
Downtown Cornwall
Take a stroll through beautiful Downtown Cornwall while admiring the stunning art creations made by Cornwall's own. Don't miss your chance to see Cornwall's talented artists display their work for the whole community to see!
Waterfest
August 10
Cornwall Canal
One of Cornwall's most popular summer events, Waterfest offers a mix of festivities, food, live entertainment and, of course, dragon boats. Grab a seat along the historic Cornwall Canal and watch the majestic dragon boats do battle on this beautiful waterway.
Poutine Feast
August 8-11
Lamoureux Park
Mouth-watering poutine creations enjoyed along the beautiful St. Lawrence River… need we say more? Take the whole family to Cornwall's delicious Poutine Feast in Lamoureux Park. Dig in to a generous helping of a classic poutine, or try some new flavours. Enjoy modern twists on an old Canadian classic! What's better than a poutine feast, eh?
Food Fest
August 17
Downtown Cornwall
Can't get enough of Cornwall's exciting food scene? If so, you're in luck! Downtown Cornwall will be bustling on August 17th with the return of Food Fest, Cornwall's biggest block party! Enjoy awesome food, live entertainment, buskers, children's activities, special sales from Downtown merchants and much more. It's a great day to explore and discover all of the great things that Downtown Cornwall has to offer.
Doors Open
August 17-18
Various Locations
The doors are opening at various historical sites across Cornwall and SDG! Visit buildings and sites from different eras throughout history and learn all about their connections to Cornwall! Keep an eye out for which locations are opening this summer!
Cornwall Triathlon
August 24-25
Cornwall waterfront
Ready? Set. Go! Lace up your running shoes and tighten your cycling helmet for the annual Cornwall Triathlon, one of eastern Ontario's premier races! Power through the waters of the St. Lawrence, ride through the streets of Cornwall, and finish with your hands in the air! The Cornwall Triathlon is always an exciting place to be in the summer. And with different categories for different levels, there's a race for everyone to take part in!
Apples & Art Studio Tour
September 28-29
Various Locations
Can't get enough of Cornwall's thriving arts scene? Neither can we! Thankfully, Apples & Art is hosting studio tours at various locations throughout Cornwall and SDG. You'll get to take a tour of local art studios and discover the talent of local artists up close!
About the Visitor Information Centre
The Visitor Information Centre is located at 160 Water Street East has a stock of Visitor Guides, maps and other information on area events, attractions, shops and restaurants. It is open 7 days a week, 8:30am to 4:30pm for the spring and summer months.   Free parking is available.
About Cornwall Tourism
Cornwall Tourism is responsible for marketing Cornwall to attract new visitors. The office maintains a visitor information centre year-round at the Civic Complex. CornwallTourism.com is an online resource that provides current tourism news as well as a comprehensive calendar of events.
You can follow Cornwall Tourism online:
Categorised in: Arts and Entertainment, Business, Community, General, News, Sports