The Craft Shack Brings Summer Social to Cornwall's Waterfront
June 25, 2021
Cornwall Ontario – Cornwall's waterfront is going to become a little more social this summer thanks to Bentley Hospitality and its innovative Craft Shack.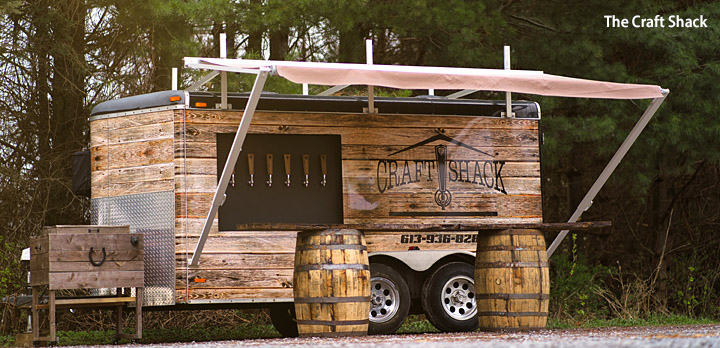 The Craft Shack will be located at Point Maligne overlooking the St. Lawrence River on select dates during the summer, offering a selection of cold craft beverage combinations.
"Our first event will be called the Summer Social and will take place from June 30th to July 4th," says Ian Bentley. "We will start small and will follow every public safety protocol, but I think the time is right for people to start connecting with each other."
Mr. Bentley has a long history of organizing events that bring together people in fun and exciting ways. His 25 year career in the hospitality industry spans several countries and top-notch venues – including the Fairmont and Delta Hotels.
"People are looking for unique experiences and are willing to travel to get them," says Mr. Bentley. "Imagine spending a summer afternoon under a tent overlooking the river, with exclusive food and drink offerings. The Craft Shack is a mobile hospitality hub that can deliver that experience."
Mr. Bentley has been working on this project for several months, first starting with transforming a trailer into the fully functioning mobile Craft Shack. This included state-of-the-art draft beer equipment, a full graphic wrap and hand-crafted wood tap handles and flight boards. Then came working his way through various regulations and permitting process.
"The Craft Shack is innovative and doesn't fit neatly into existing categories, which has meant a lot of conversations and back and forth," says Mr. Bentley. "We are now licensed and insured and ready to bring the finest in craft beverages to you."
Mr. Bentley expects to have 4 to 5 events at Point Maligne this summer. The Craft Shack is also available to be hired for private events such as weddings and other outdoor gatherings.
You reach Bentley Hospitality by phone at 613-936-8289 or online at:
Categorised in: Arts and Entertainment, Business, Community, General, News