The Craft Shack Brings Summer Social to Downtown Cornwall
June 24, 2022
Cornwall Ontario – One of Cornwall's favourite outdoor events will be bringing cheer to Downtown Cornwall as Bentley Hospitality returns with the Summer Social.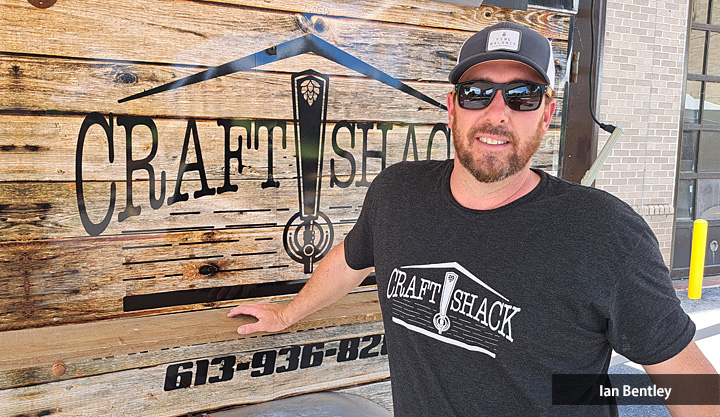 The Craft Shack will be located at Cornwall Square – in the former Active Green+Ross parking lot at Pitt and Water Streets. The outdoor venue will provide patrons with views of Lamoureux Park and the St. Lawrence River on select dates during the summer, offering a selection of cold craft beverage combinations.
"Our Summer Social series last year was very popular, and we are happy to bring back the event on select dates this summer," says Ian Bentley. "The venue is a little bit more urban, which allows for people to plan a night out downtown – perhaps a little bit of shopping, some dinner and then some great Ontario craft beer and live music at the Craft Shack."
The Summer Social series kicks off tonight (June 24).  There is no cost to attend from 5:00pm to 7:30pm, after that it's a ticketed event featuring the live music of the Trevor Walsh Group. Limited tickets are still available.
"We invite people to bring a lawn chair if they wish – there will be limited seating," says Mr. Bentley. "Its strange to have clear skies and no rain – but we're not complaining. It looks to be an awesome night!"
Mr. Bentley has a long history of organizing events that bring together people in fun and exciting ways. His 25 year career in the hospitality industry spans several countries and top-notch venues – including the Fairmont and Delta Hotels as well as Cornwall's NAV Centre. He launched the Craft Shack last year – an innovative mobile trailer that features state-of-the-art draft beer equipment, a full graphic wrap and hand-crafted wood tap handles and flight boards. Since then he has held a number of outdoor events, including Summer Social and Rock the River.
Mark your calendars for future Summer Social events on July 29 and August 26. Connect with Bentley Hospitality by phone at 613-936-8289 or online at:
Categorised in: Arts and Entertainment, Business, Community, General, News