The Happy Popcorn Co. Expands to Pitt Street
October 2, 2020
Cornwall Ontario – Everybody loves a little sugar in their lives. It is that love of sweets – and the great taste of freshly popped popcorn – that has propelled The Happy Popcorn Co. to a new larger store on Pitt Street.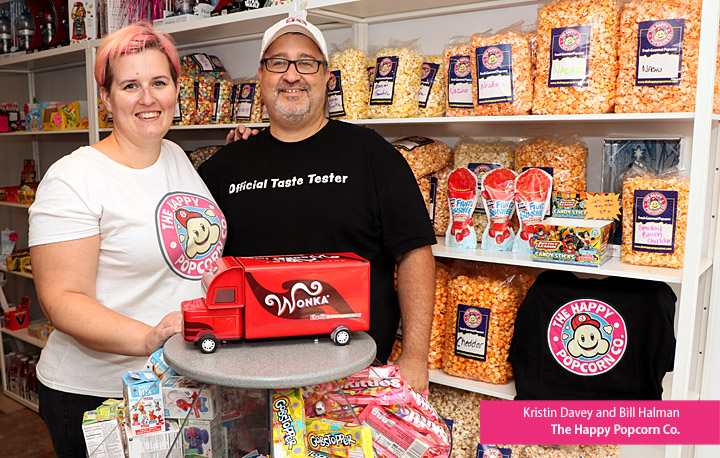 The "little popcorn company that could" opened just a few months ago on First Street in Downtown Cornwall, and the response from customers has been beyond expectations. Having quickly outgrown their store, owners Kristin Davey and Bill Halman worked closely with their landlord to find the right spot to make their new home.
"We're very lucky that our decision to move came when it did; Our landlord had another property he was looking to fill, and the folks at Birchwood were ready to take over that space, meaning their spot was opening up. The square footage of 109 Pitt St, allows us to purchase some new equipment which will let us increase our production and finally actualize some of the exciting programs and opportunities for the community we have planned."
The Happy Popcorn Co. is a family run store that features a wide range of fresh gourmet popcorn made right on the premises. The new larger store has room to showcase their complete line of retro and imported candy and chocolates, flavoured pork rinds and artisan sodas, lemonades and iced teas. Offerings include fresh cotton candy made in house, as well as sugar free snacks and flavoured pork rinds.
"We've tried really hard to find goodies you just don't see anywhere else. I'm also a sucker for products with a really great story or mantra such as the line chocolate bars from Peace by Chocolate " says Ms. Davey. "We know that there is something to satisfy everyone's palate instore, and we're constantly searching for new and exciting products to bring in, especially now that we've got even more room to display it in."
Since they opened their doors 10 months ago, The Happy Popcorn Co. has raised and donated over $6000 to local charities including Beyond 21, Rachel's Kids, The Boys and Girls Club of Cornwall SD&G and Carefor Hospice and The Cornwall Hospital Foundation. In addition to their fundraising, when COVID first hit the province The Happy Popcorn Co, donated over 250 bags of popcorn to the Cornwall Community Police Services, Maison Baldwin House and Environmental Services at Cornwall Community Hospital.
"It's a part of our business mantra; Be Kind. Do Good.," says Ms. Davey, "Our business is only as strong as our community, and boy has our community stepped up. We are overwhelmed by the support we have received since we opened."
Grand Opening
The Happy Popcorn Co. invites you to check out the new store this Saturday, October 3 from 10-4. Look for indoor special promotions. $1 will be donated to the Children's Christmas Fund for every bag of popcorn sold that day.
About The Happy Popcorn Co.
The Happy Popcorn Co. is located at 109 Pitt Street in Downtown Cornwall and can be reached at 613-937-2677. The store will be open Tuesdays & Wednesday from 10 am to 5 pm, Thursday & Friday from 10 am to 6 pm and Saturdays from 10 am to 4 pm. You can reach them online at:
Categorised in: Arts and Entertainment, Business, Community, General, News