Tickets Now Available for the Wonderful World of Whisky Show
December 16, 2019
Cornwall Ontario –  If you love settling down to an evening with a warm armchair and a glass of golden liquid – rejoice – the Wonderful World of Whisky Show is back for a fourth installment.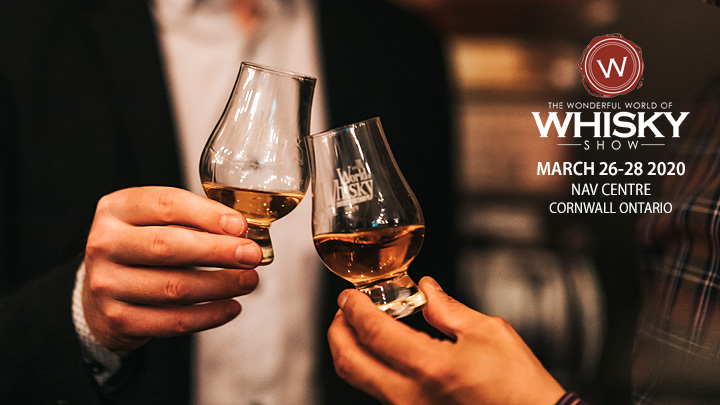 "Dozens of tickets were sold on the first day of sales," says event organizer Ian Bentley. "If you thought about waiting… think again. We will sell out long before March comes around."
The 2020 version of the show runs March 26-28 at the NAV CENTRE.
As in past years, the spacious ballroom at NAV CENTRE will be transformed into a world of tents – each with their own theme. Attendees will be able to sample over 150 whiskies, while enjoying live music and an array of unforgettable open-fire cooking. This show is set to exceed expectations once again!
"We are so very fortunate to have an amazing group of people who each year make the Show a world-class experience," says Mr. Bentley. "The show is a celebration of a centuries old art form, with equal doses of fun, education and fine companionship."
Special Guests
As the reputation grows, the Wonderful World of Whisky Show is able to attract some of the top distillers in the world. The 2020 event will welcome dozens of industry experts, including the following special guests:
George Grant – Glenfarcas Distillery
John MacDonald – Balblair Distillery Manager
Ned Gahan – Master Distiller for Waterford Distillery
Julianne Fernandez –  Blender and Spirit Quality Analyst for Distell
Mike Brisebois – North American Brand Ambassador Distell
Cameron Millar – Portfolio Ambassador Edrington
Joshua Beach – Master Distiller Wayne Gretzky Distillery
Elizabeth Havers – Brand Ambassador – Glenfiddich
Jamie Johnson – Brand Ambassador for The Balvenie
Bryan Simpson – National Brand Ambassador for Ardberg and Glenmorangie
Ray Daniel – Beam Suntory Bourbon Ambassador
Taylor Corrigan – Canadian Brand Ambassador for Woodford Reserve and Old Forester
Chris Thompson – Forty Creek
Stuart Brown – National Whisky Consultant
Tim Farrell- Heaven Hill National Brand Ambassador
Brent Vanderveen – BarChef Project
Mark Gillespie -@whiskycast
Davin De Kergommeaux
Richard Urquhart- Gordon & MacPhail Head of Sales-Americas
Bill Somerville- Canadian Brand Ambassador for Gordon and McPhail
Miles Thompson-  Sales Director for International Beverage Holdings -Latin America and Caribbean
Master Classes
In addition to attending the Show itself, participants can sign up for over 30 different master classes where a whisky ambassador will explore the nuances of a different brand or line of whiskies. There are also special dinners on Thursday and Friday night where whiskies are pared with a unique meal. Tickets to the master classes and the dinners are sold separately and are now on sale.
Ticket Info
Tickets for the 4th annual Wonderful World of Whisky Show are available for purchase at $128 on Eventbrite.  Tickets to the master classes and dinners range in price from $10 to $175 and can purchased on Eventbrite as well.  A full schedule with dates and times is outlined here:
Last year, the event sold out in just a few weeks.  Guests must be 19 years or older to attend. Room packages are also available from NAV CENTRE.
"We have guests attending from across Canada and USA, as well as a number of people from Europe," notes Mr. Bentley. "In fact the vast majority of attendees are from outside of the region, which allows us to introduce them to Cornwall and Eastern Ontario."
You can follow the Word of Whisky Show on Twitter @WWofWhiskyShow
About the NAV CENTRE
The NAV CENTRE is a training and conference venue owned and operated by NAV CANADA. It offers access to 550 guest rooms, 70 state-of-the-art classrooms and meeting rooms, as well as an auditorium. Other amenities include a gymnasium and fitness facilities, as well as multiple dining options. The NAV Centre is also an accredited member of the International Association of Conference Centres (IACC), provided for adhering to globally-recognized standards in hospitality service.
Categorised in: Arts and Entertainment, Business, General, News