Tony Luis Fights for Championship June 21
May 13, 2019
Cornwall Ontario – Cornwall native and lightweight contender Tony Luis will face the most daunting test of his 11-year professional career on Friday, June 21st when he battles Mexican knockout artist Adrian Estrella in the main event of a multi-fight card at the Cornwall Civic Complex.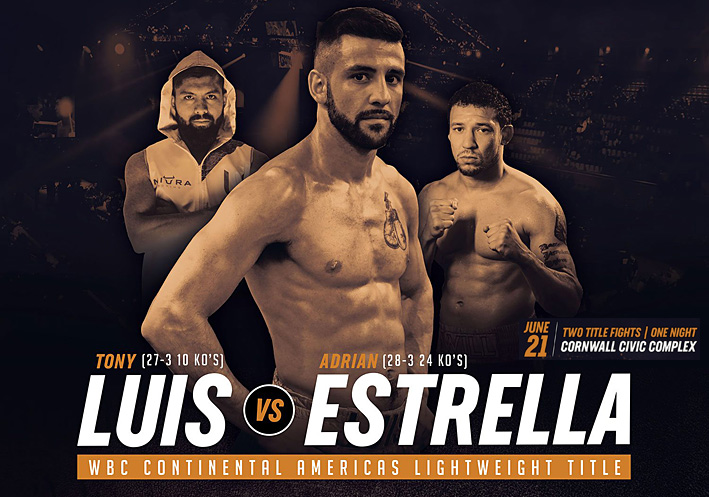 The WBC Continental Americas Championship will be on the line in what promises to be a pyrotechnic collision between two premier, battle-tested 135-pounders, both of whom are angling toward a world title shot.
An equally intriguing co-feature will match Luis' undefeated stablemate, Will Madera of Albany, N.Y., against another rugged Mexican, Christian Uruzquieta, in a 10-round battle for the WBC International Silver lightweight crown.
Luis (27-3, 10 Kos), the No. 1-ranked lightweight in Canada, will put an eight-fight winning streak on the line against Estrella (29-3, 24 KOs), who doesn't figure to be intimidated, having faced three consecutive unbeaten opponents.
"He's younger, has more wins, and has more knockouts than me. He's a champion for a reason," said Luis. "On paper he's supposed to win. Unfortunately for him, I'm not going to let that happen. I believe I am the best lightweight in the world, and on June 21st, I plan to take his title in devastating fashion."
Estrella's most-recent outing was Feb. 9, when we won the WBC Continental Americas lightweight belt by split decision over highly regarded Oscar Duarte (15-0-1). Estrella will be defending that strap in Cornwall. The 27-year-old Monterrey, Mexico slugger knocked out the first 18 opponents he faced in a career that dates back to 2010.
"I am thankful for this opportunity, and I'm ready to fight Luis," said Estrella. "I'm coming off a big win in California against an undefeated fighter who nobody thought I would beat, but I did. I'm in great shape, and the people of Cornwall are going to be shocked when they see what I do to Luis. Thanks to Denis Benoit of Liveco Boxing and Manuel Garrido of Miura Boxing for this great opportunity. For my first fight in Canada, I plan to come back home to Texas with the win, my title and feeling grateful for the hospitality of the Canadian people."
The 28-year-old Madera (14-0-2, 7 KOs) is computer-ranked 15th in the United States among 135-pounders, according to boxrec.com, but the New York native also will be stepping up in competition. His most-recent conquest was a first-round knockout of Daulis Prescott (32-11) in Colombia.
Uruzquieta (18-4-1, 6 KOs), also 28, won the vacant WBC International Silver lightweight title in December with a split-decision over previously unbeaten Ray Moylette (11-0). He has faced seven unbeaten opponents in a career that began in 2009.
"I'm excited for the opportunity to fight a guy who brings the action," said Madera. "I won't have to look for him, he'll be right in front of me, and I will punish him to the body and knock him out". The two title fights will top a 7-fight show that also promises plenty of fireworks on the undercard, which will be unveiled shortly.
"As a fight fan first, I can't wait for this event," said Denis Benoit, CEO of Liveco Boxing, and promoter of both Luis and Madera. "On paper, both matchups are very intriguing, and both fights promise to be all out wars. Fight fans are in for a real treat. To be the best, you need to beat the best, and I'm confident that Luis and Madera will do what they need to do to get the win."
Ticket information
Tickets for the June 21st event are priced at $30.50, $40.50, & $60.50, and are now on sale. They can be purchased online, by phone at 1 (888) 655-9090, or in person at the Cornwall Civic Complex box-office or call at (613) 938-9400.
Doors open at 6:30 pm with the first bout scheduled for 8 pm.
About Liveco Boxing
Liveco Boxing is a Toronto-based boxing promoter that was founded in 2016 with the purpose of bringing back a higher standard of ethics to the boxing industy. Liveco's "Fighter First" philosphy makes them the company of choice for professional fighters looking for a hands-on, personal approach to promotion.
For more information, please visit www.liveboxing.com.
Categorised in: Arts and Entertainment, General, News, Sports