Tourism Development Fund Supports Cornwall Arts and Culture Centre
March 2, 2020
Cornwall Ontario – The Tourism Development Corporation of Cornwall (TDCC) has stepped forward with a major contribution for future Cornwall arts and culture centre in Downtown Cornwall. The funding will be delivered in four annual installments of $25,000, for a total investment of $100,000.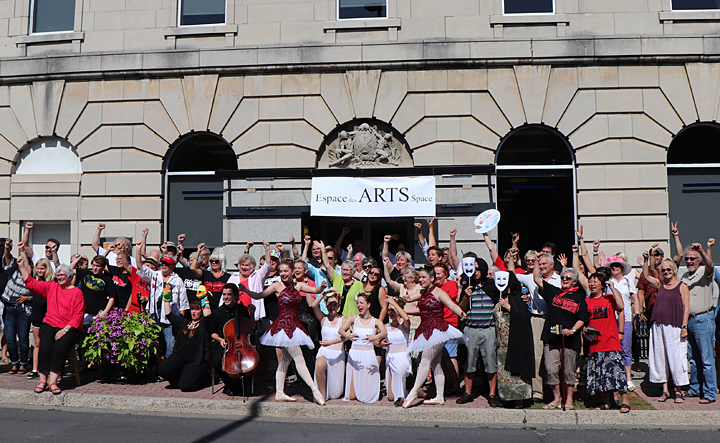 "We are convinced that the centre can have a significant beneficial effect on tourism in our area, in addition to being of tremendous significance to the development of our community," said Etienne Saint-Aubin, TDCC Chair.
In 2018, the City of Cornwall purchased the former Bank of Montreal building at 159 Pitt Street, with the intention of renovating the space for an Arts and Culture Centre. This multi-purpose venue will include a black box theatre and other community oriented space. The local arts community has embarked on a fundraising campaign that by the end of 2019 had raised over $500,000.
The fundraising committee had applied for financial support through the Tourism Development Fund, which was granted by the TDCC following a thorough review process. Along with the substantial funding, the TDCC board has endorsed the establishment of an arts and culture coordinator position as part of the future operations of the Centre.
"We consider establishing this position to be crucial to the centre's success, and for a healthy relationship with essential existing facilities such as Aultsville Theatre," added Saint-Aubin.
The TDCC hopes that this contribution will help the arts and culture centre to be up and running sooner and looks forward to witnessing the positive impact of the centre on the City. For more information on the fundraising campaign and to make a donation, please click here.
About the Tourism Development Fund
The Cornwall Tourism Development Fund was established in 2019 to support efforts to grow tourism activity in the City of Cornwall. The fund includes both a Fesitval & Events stream as well as an Attractions & Tourism Product Development stream. The fund is managed by the Tourism Development Corporation of Cornwall, a not-for-profit corporation.
For additional information on the Tourism Development Fund and to access the application forms, please click here.
Categorised in: Arts and Entertainment, Business, Community, General, News, Sports