Trunk Sale Returns this Weekend with Dozens of Artisans
October 29, 2019
Cornwall Ontario – Imagine a year's worth of visiting artisan studios, eclectic shops and outdoor markets – all packed into one convenient weekend. Now picture an idyllic orchard setting on a hillside overlooking the St. Lawrence River, and you will have some idea of what to expect one of the Cornwall region's most popular events – the Trunk Sale.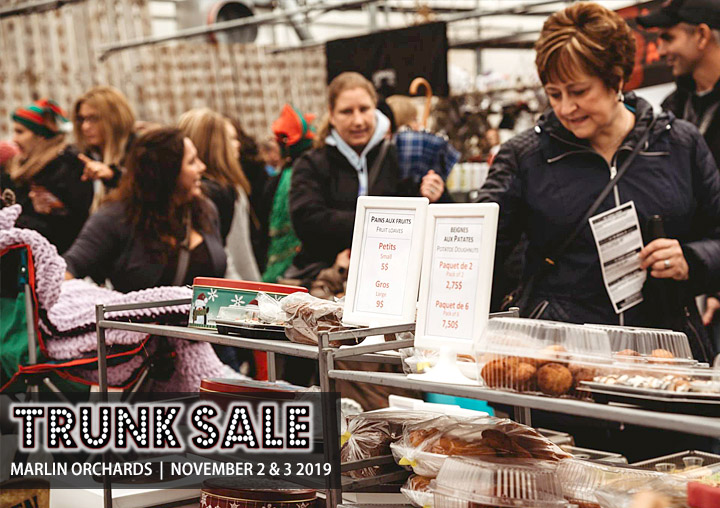 The Trunk Sale celebrates its 10th Anniversary this coming weekend, Saturday November 2nd and Sunday November 3rd, at Marlin Orchards, just east of Cornwall on Country Road 2.
There will be something for everyone, with original art and woodwork on display, as well as goods from local merchants and manufacturers. With over 100 vendors each day, organizers are confident that the event has a little something for everyone.
"It's a one stop shopping event, where you can get all of your Christmas shopping done under one roof," notes Debbie Burns, one of the key organizers for the event. "Join us for one or both days as many vendors will change out over the weekend."
The Trunk Sale is an opportunity to meet the artists and artisans who have made the products on display. It is also an opportunity to visit with your neighbours in an old fashioned market setting in the expansive greenhouses at Marlins.
The first trunk sale started in 2010 with 30 vendors and attracted 500 people. Since that time the event has grown in popularity and each year for the past several years the event has welcomed over 3,000 guests.
"Our success is solely rooted in our connection to the community," says Ms. Burns.
One of the nice things about the Trunk Sale is that it brings together artisans with established small business owners as well as aspiring young student entrepreneurs.
"The Trunk Sale continues to support our youngest entrepreneurs and help them introduce unique quality products," says Ms. Burns. "We are very proud to continue to offer a venue that has something for everyone."
The Trunk Sale is open from 11 am until 4 pm each day.
Tickets
Tickets are $5 for the day or $8 for the weekend pass. Early bird daily passes are also available at $10.  Early bird ticket holders get in an hour earlier for a less busy shopping experience as well as a few added perks. Doors open for general admission ticket holders at 11am.
Tickets can be purchased in advance at Marlins Orchards, Rachel's Kids/House of Hope, Dr. Rachel Navaneelan Dentistry, The Coffee Shop (inside the McConnell Medical Centre), and Life's Little Pleasures.
Tickets are also available at the door.
A Tradition of Giving
"Since 2010 we have raised over $200,000 for charities in our local community," says Ms. Burns. "Last year's event raised more than $40,000 for Rachel's Kids.
Categorised in: Arts and Entertainment, Business, Community, General, News