Trunk Sale Returns With 100-plus Vendors
October 28, 2022
Cornwall Ontario – One of the region's most popular fall shopping events is back in a big way.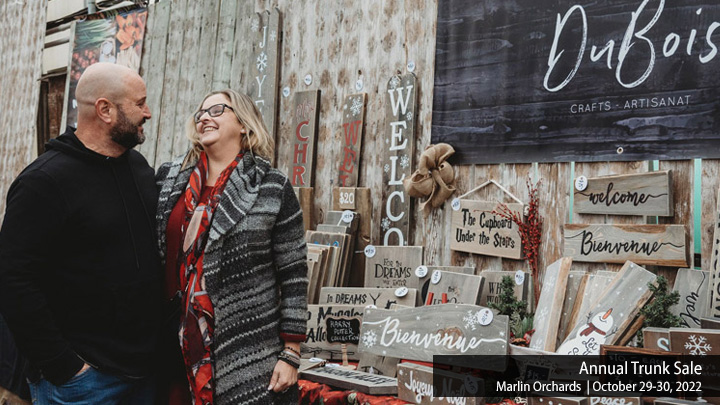 The 13th annual Trunk Sale returns this Saturday and Sunday from 10 am to 4 pm at the beautiful Marlin Orchards, just east of Cornwall along Country Road 2 in South Glengarry.
Visitors will be able to explore the one-of-a-kind items of more than 120 different artisans and vendors set up inside the greenhouses at the orchard.
"After a two-year hiatus, we are over the moon happy to be back with the Trunk Sale," said Debbie Poirier Burns of W3G & Co., the organizer of the event. "It's a great opportunity to discover local makers and do some shopping all while supporting a great cause at the same time."
Beyond the shopping, there will also be some trick or treating for the little ones, a food court and much more on-site to enjoy.
"The Trunk Sale has earned its reputation as one Eastern Ontario's must-attend events," says Kevin Lajoie, Tourism Officer with the City of Cornwall. "It attracts hundreds of people, many of who stick around and grab a bite to eat and even stay overnight. There is a lot to see and do in Cornwall and region this time of year."
Ticket Info
Tickets are $8 for a day pass or $15 for a weekend pass.  Tickets can be purchased online as well as at the door during the event.
All proceeds go to local non-profit organization Beyond 21.
About the Trunk Sale
Founded in 2010, the Annual Trunk Sale was created by W3G & Co. as a way of helping local charities achieve some of their goals. With a strong focus on handmade & local, vendors are carefully curated to bring forth a show that appeals to all demographics. The event has grown exponentially and to date has helped raise over $250,000 for local charities including the MS Society, Maison Baldwin House & Rachel's Kids. W3G & Co. is proud that the funds raised at the event have remained local and have helped the residents of Cornwall and SDG.
For additional information on the Trunk Sale, including a list of participating vendors, please visit the W3G & Co. Facebook page.
#ExploreCornwallON
Looking for other fun things to do in Cornwall? Check out the Explore section of the Cornwall Tourism website for other fun-filled activities to keep you busy. Find out about current events by visiting the Cornwall Tourism Events Calendar.
Categorised in: Arts and Entertainment, Business, Community, General, News