Trunk Sale Expands to 125 Vendors
October 29, 2018
Cornwall Ontario – Back bigger than ever, the Trunk Sale celebrates 9 years this weekend at Marlin Orchards, just east of Cornwall.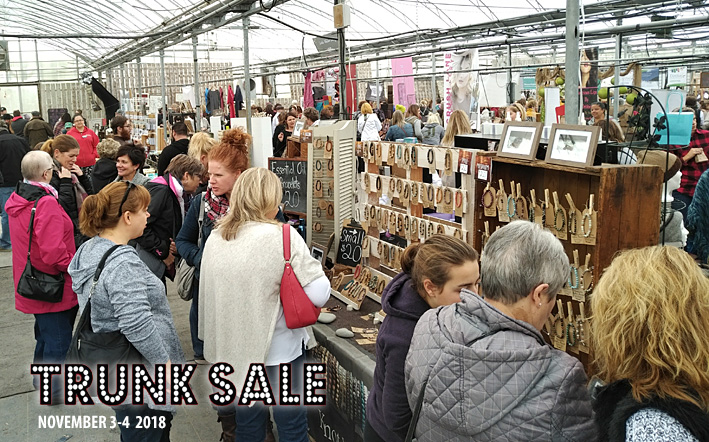 One-of-a-kind items in a one-of-a-kind venue – that's what visitors can expect to find this weekend at the 9th annual Trunk Sale at Marlin Orchards.
The popular event will feature over 125 vendors selling a wide variety of items – everything from home décor items and jewellery and accessories to children's clothing, toys, food and so much more.
"There will be something for everyone," said Debbie Poirier-Burns of W3G & Co. (We 3 Girls), the organizers of the event. "We have almost 50 per cent brand new vendors who have never been part of the Trunk Sale. Some of the talent in these individuals absolutely floors me. We have vendors coming from as far as Toronto to take part. I can't wait until our visitors see them and their products."
The event has caught on with shoppers not just locally but beyond Cornwall and SD&G as well.
"We have visitors who come from Kingston, Montreal, Ottawa and surrounding areas," she added. "We even have a few groups of girls who make a girls weekend out of it and come from Toronto."
In addition to some amazing products on display, visitors are also treated to a beautiful setting in the form of Marlin Orchards, located off of Highway 2 just minutes east of Cornwall.
"When I go out of town to scout for new vendors and I explain to them that the event is held inside the greenhouses at an orchard, it's hard for them to visualize. But once they are there and they see the magic happen, they truly understand," said Mrs. Poirier-Burns. "Marlin's is such a charming venue. I'm a sucker for the rustic look and the country life so it has been my favourite spot to host an event. And the Lunan family are amazing to work with."
The Trunk Sale runs on Saturday, November 3rd and Sunday, November 4th from 10 am to 4 pm both days.
The event also serves as a fundraiser and this year it will once again support Rachel's Kids.
"Last year's event raised just shy of $40,000 for them. They are an amazing charity who help so many families in their times of need. I am truly honoured to be working with such a great group of people," said Mrs. Poirier-Burns.
Admission
Tickets are $5 for a day, $8 for the weekend, or $10 for an early bird pass for pre-entry one of the days.
Tickets can be purchased at the door or in advance at The Maker Shop, Life's Little Pleasures, Marlins, The Coffee Shop, Rachel's Kids House of Hope and Dr. Rachel Navaneelan Dentistry.
A Tradition of Giving
"Since 2010 the Trunk Sale has raised over $150,000 for charities in the local community. This year's event will benefit Rachel's Kids.
Categorised in: Arts and Entertainment, Business, General, News