Visitor Info Centre Opens for Summer Season
June 30, 2022
Cornwall Ontario – The Cornwall Tourism pop-up visitor info centre is now officially open for the summer season.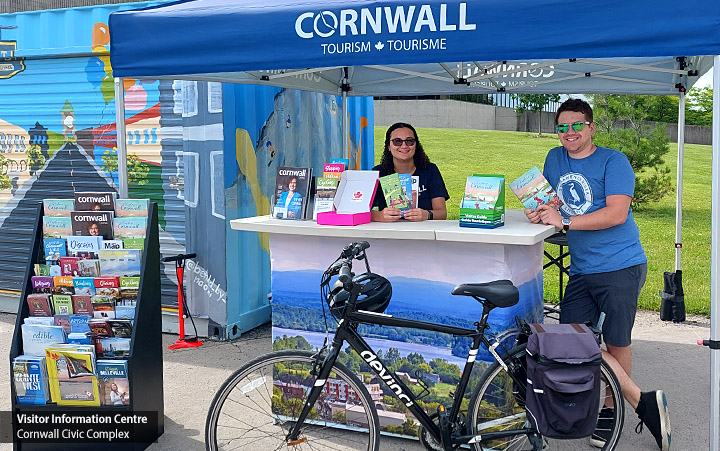 Located at the bright pop-up container in front of the Cornwall Civic Complex (100 Water Street), the visitor info centre will be open 7 days a week from 9 am to 5 pm, from Friday, July 1st to Friday, August 26th.
Visitors and residents can stop by and pick up the latest editions of the Explore Cornwall Visitor Guide or Cornwall Living magazine as well as maps and other tourism information. Cornwall Tourism staff will also be happy to provide recommendations on things to see and do in the city and region.
"The pop-up visitor centre is in an ideal location given its proximity to Lamoureux Park and the Riverside Trail," said Kevin Lajoie, Tourism Officer. "It's a convenient place to be for cyclists who are heading out on the trail and other visitors exploring the waterfront."
In addition to the visitor centre, Cornwall Tourism staff will also be visible this summer along the Riverside Trail and other parts of the city. Staff will be roaming on bicycles to greet visitors and provide information. Cornwall Tourism will also have a presence at a variety of festivals and events throughout the city this summer.
"We have already seen an uptick in visitors exploring the city over the last couple of weeks and we expect to see even more of that as summer continues on," added Mr. Lajoie.
On inclement weather days, Cornwall Tourism staff will be working inside the Cornwall Civic Complex. Visitors can obtain service at the front entrance.
After Hours & Group Support
Cornwall Tourism is available to help after hours too! Visitors can text 613-938-4748 anytime to access the Cornwall Tourism text message service and staff will endeavour to respond as quickly as possible.
Groups looking to visit Cornwall are encouraged to email info@cornwalltourism.com for direct support.
About Lamoureux Park and Cornwall's Riverside Trail
Lamoureux Park sits just south of Downtown Cornwall and offers amazing amazing views of the St. Lawrence River.  The Park is home to the Marina 200, Cornwall Community Museum, the Lions Club Bandshell and a variety of other amenities. The Riverside Trail is a dedicated multi-use trail that spans the entire waterfront in Cornwall – completely off-road and traffic free. Free parking is available at the Civic Complex.
Additional Tourism Info
Cornwall Tourism maintains a visitor information centre year-round at the Civic Complex and publishes the popular Cornwall Visitor Guide. CornwallTourism.com is an online resource that provides current tourism news as well as a comprehensive calendar of events. Check out the Cycling Page for maps and information on park and ride options, Cycle and Stay packages and more! You can follow Cornwall Tourism online:
Categorised in: Arts and Entertainment, Business, Community, General, News, Sports