Visitor Information Centre Opens for Summer Season
July 4, 2023
Cornwall Ontario – The Cornwall Tourism summer Visitor Information Centre is once again open and greeting visitors.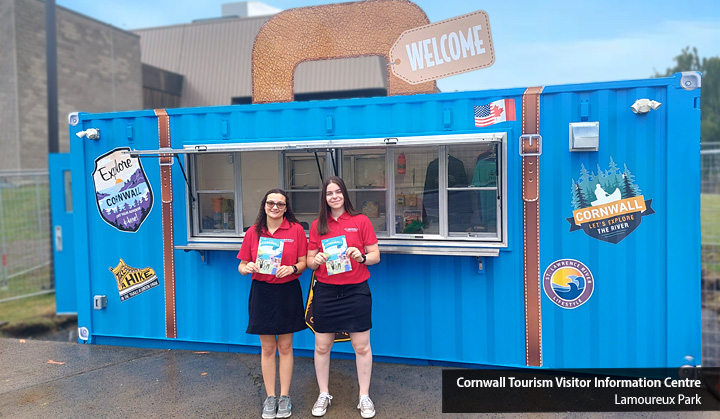 Located at the entrance to the Cornwall Civic Complex and Lamoureux Park at 100 Water Street East, the new-look Visitor Information Centre was created from a repurposed shipping container and is decorated as a giant suitcase – making it easy for visitors and residents to spot.
The centre will be open 7 days a week from 9 am to 5 pm from July 1st until the end of August. The facility is equipped with visitor guides, maps and other handy information on local events and attractions to assist visitors in making the most of their visit to Cornwall and area.
Souvenirs are also available for purchase ranging from hoodies and hats to stickers, water bottles and more.
"The location allows us to easily connect with people attending special events in the park or at the Civic Complex as well as visiting cyclists who often park at the Civic Complex before embarking on a ride on the Riverside Trail," said Kevin Lajoie, Tourism Officer with the City of Cornwall. "We have operated from this location for the past few summer seasons and it has proven to be quite beneficial."
The new visitor centre project was carried out through a grant from the Government of Canada's Tourism Relief Fund through FedDev Ontario. FedDev Ontario is delivering nearly $120 million of the Tourism Relief Fund across southern Ontario to help tourism-oriented businesses and organizations recover from the pandemic and prepare for future growth.
About Lamoureux Park and the Riverside Trail
Sprawling along the St. Lawrence River in the heart of Downtown Cornwall, Lamoureux Park is the city's most popular playground. It is home to the Cornwall Community Museum, Civic Complex, Aquatic Centre and Marina 200 and features waterfront recreational paths that meander through parkland and natural areas. The Park – and its free parking – has become a key hub for cyclists anxious to explore the Riverside Trail – a trail that runs along the river for 40 km from Cornwall to Upper Canada Village.
Connect with Cornwall Tourism
Looking for other fun things to do in Cornwall? Check out the Explore and Events section of the Cornwall Tourism website for other fun-filled activities and events to keep you busy. Better yet, consider extending your stay with a night at one of our great accommodations!
Related Articles
Categorised in: Arts and Entertainment, Business, Community, General, News