Work Progressing on Affordable Housing Projects
November 16, 2022
Cornwall Ontario – Work is progressing on a new housing development on Pitt Street North with construction slated to begin in the first quarter of 2023.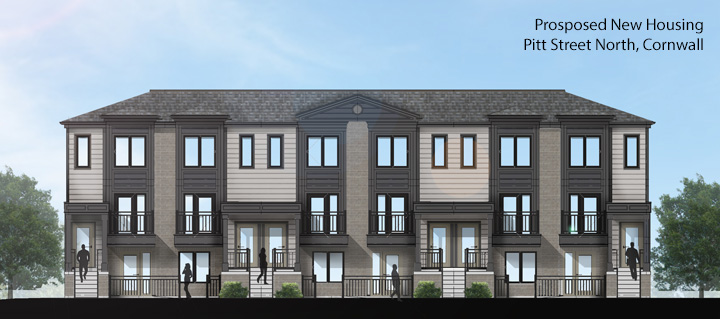 In August City Council authorized the implementation of the first phase of a multi-phase development project. Architect and engineering drawings are being finalized this fall.
The first phase will see the construction of 27 two-bedroom units across three buildings. The cost of this phase is estimated at $13 million. The city has received $3.8 million in federal-provincial funding through the Social Services Relief Fund and will use $570,000 from its social housing regeneration reserve to support the project, with the remainder being financed.
"The dwellings will be apartments in stacked townhouses, with rents set at attainable market, affordable and/or rent-geared-to-income rates," said Mellissa Morgan, General Manager of Human Services and Long-Term Care. "With increasing costs and a critical need for more housing in Cornwall, the development will be welcome news to local residents."
Construction is expected to take 12-16 months, and once complete, the units will become part of the City of Cornwall's housing portfolio. The site would remain 'shovel-ready' to build an additional six similar buildings, offering a total of 54 additional apartments (81 when full development is complete), once funding is available to proceed.
Work is also progressing well on another City affordable housing project. The $18.8-million development at McConnell Avenue and Ninth Street East will feature 77 residential units when construction is complete – expected in the second quarter of 2023.
"Its clear that housing – especially affordable housing – is one of the most important issues facing Canadians today," said Mayor Justin Towndale. "I'm proud that the City of Cornwall has been proactive in addressing this issue with the construction of these two projects. I look forward to continuing our investment in affordable housing, and would invite the private sector to join us in the future."
About Housing Services Division
The Housing Services Division of the City of Cornwall delivers programs and services to residents in Cornwall, Stormont, Dundas, and Glengarry. Programs include rent-geared-to-income, homelessness prevention, domiciliary program, and Ontario Renovates.
Housing Services offers quality, safe and affordable housing for seniors, families and adults.  The Corporation owns 720 senior apartments, 21 Affordable Housing units geared to seniors, 32 Affordable Housing units geared to non-seniors and 458 family units in Cornwall, Stormont, Dundas and Glengarry.
For more information on Social and Housing Services, please visit the City's website:
Related Articles